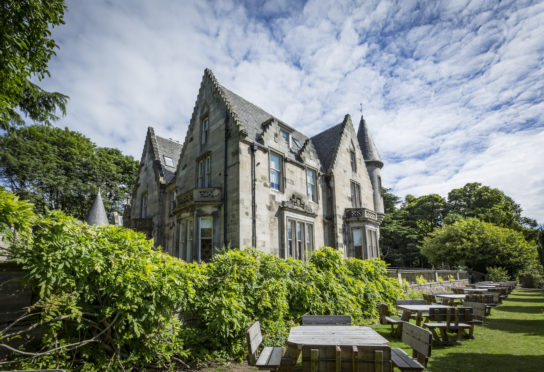 A West End boutique hotel has won a two-year battle for the right to put up a new advertising sign, despite councillors officers saying it would detract from the character of Perth Road.
Taypark House wants to erect the sign to attract passing customers as its entrance, where signs are in place, is set back from the road.
Owner Richie Hawkins said customers tell him every day they either drove past the hotel, which is also a popular restaurant and wedding venue, or did not realise it was there at all.
Mr Hawkins said he opened Taypark House five years ago and has invested around £1 million in the business, creating 40 jobs in the process.
He said he has fought for two years for permission to put up better advertising signage for the venture.
He told councillors when he spoke to officers about his plans – which they recommended for refusal – rather than visit they site they simply looked at the location on Google.
Mr Hawkins said: "I was very disappointed they did not want to come out and see the place.
"I spent an hour and half in (council headquarters) Dundee House going up and down the road on Google Earth when they could just have gone out and seen it."
Mr Hawkins said he had also been frustrated in efforts to get Taypark House listed on brown tourist information road sign.
He said a business must be recognised by VisitScotland and then pay to join its Quality Assurance scheme, when it can then pay for new brown signs to replace ones already in place.
He said several companies advertised on brown signs stop paying to be part of the Quality Assurance Scheme when signage is erected and signs only get changed when a new business is prepared to stump up the cash to pay for a new one.
He said: "It would cost us around £5,000 and that is too much."
Planning committee convener Will Dawson said he is not "anti-business" but backed officers' recommendation to refuse the sign, which will be 1.8 by 1.6 metres in size.
Conservative West End councillor Donald Hay put forward an amendment to grant the application, saying the sign would not be "intrusive". It was carried by 18 votes to three.
After the meeting Mr Hawkins said: "I'm very pleased – as a small business it is crucial to get signage."
Mr Hawkins will still have to obtain Listed Building Consent.
A VisitScotland spokesman said if businesses leave their Quality Assurance Scheme they will notify the relevant local authority that the brown sign should be removed.