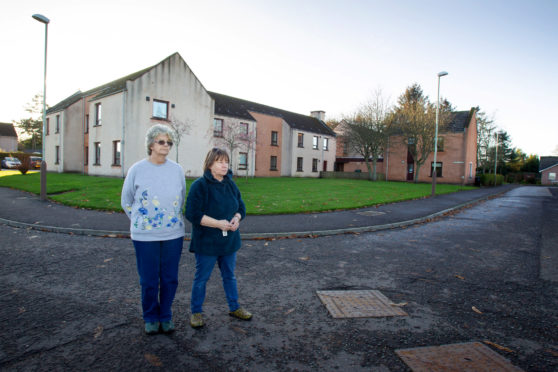 Remaining residents in an Angus complex awaiting demolition have claimed they have been "left in the dark" over the scheme.
The once-popular Inglis Court retirement housing in Edzell is due to be razed next year and replaced with around 20 new affordable homes in a £3.5 million project.
Angus Council took the decision to knock down the houses in late 2018 despite doubts expressed by one local councillor that the authority would be bulldozing properties in "quite good condition", but officials said the 70s homes had become hard to let.
A majority of tenants have moved on, but one of the few remaining residents, Renata Ralph, said she has been left in limbo over hopes to stay in the village.
"I came here as an over 60s tenant, and I love Edzell – it's a quiet village and Inglis Court is tucked away in a very nice setting," she said.
"They've managed to find new homes for some people, but they are not offering anything suitable and are definitely not keeping us in the loop.
"We've had one Christmas where nothing has happened, and the three or four people who are left are now facing another one.
"At the time the decision was made we were promised a 'bespoke' service would be provided for the residents here to suit their needs but that certainly isn't what we've been given and it has been quite upsetting to be ignored for months."
Mrs Ralph added she has been offered alternative accommodation in Montrose and Birkhill but she wants to stay in Edzell.
A council spokesman said efforts are ongoing to rehouse the remaining Inglis Court residents.
"Plans for Inglis Court are unchanged, to replace the current facility with around 20 new affordable council houses for rent," the spokesman said.
"Demolition is scheduled to begin next year.
"As part of the overall project, officers will be engaging with the local community to outline proposals before the planning application is submitted to ensure they have information about and awareness of the proposals.
"The majority of Inglis Court tenants have now been found suitable alternative accommodation and we continue to work hard to find housing solutions that meet the needs of those that remain."