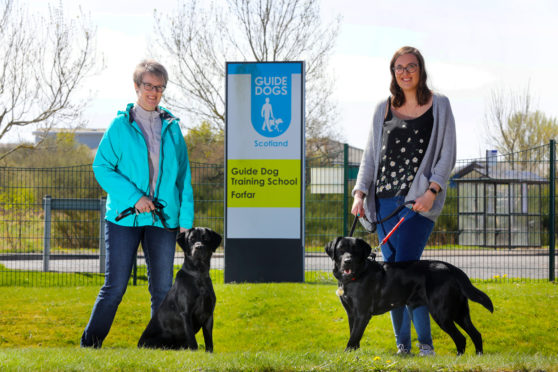 A battalion of boarders are taking the lead in keeping up the good habits of trainee guide dogs during the pandemic lockdown.
Guide Dogs for the Blind operates its Scottish training centre from Forfar but since the Covid-19 restrictions came into place more than 80 young dogs have been given homes with charity volunteers in a round-the-clock expansion of the valuable role they already play.
Boarders usually take the dogs at evenings and weekends, dropping them back off at Orchardbank to embark on training.
Boarding co-ordinator Audrey Thomson said: "We've a fantastic team of boarders and have 84 dogs in homes around Angus and as far as Perth and Laurencekirk.
"It is also a strange time for the dogs because they are so used to their routine of being dropped off daily here at Forfar for training, but we have a team of people who are keeping in very close contact with all of our boarders and we are very pleased with how things have been going.
"This situation will interrupt their training but the boarders' will still be keeping up their dog's basic obedience with things such as nice manners, stopping at kerbs, walking properly on the lead and so on.
"We're not asking them to do any other training because all the dogs are at different stages, but we are delighted with the support of our boarders team, which is one we are always looking to add to," added Audrey.
Forfar mum and daughter Lesley and Katherine Haynes are both boarding dogs which are approaching two years old.
Lesley and husband Graham have boarded for a number of years and she said Oasis definitely found the change unusual.
"She loves meeting other people's dogs when we are out and just wants to bounce up to them and play, but obviously we can't do that at the moment."
Katherine and partner, Steven Patullo took on their first dog, Tudor, just before lockdown.
"I've grown up with guide dogs in the house, but it's unusual how it has worked out for our first dog in this situation," she said.
Guide Dogs Scotland regional head of operations, Wendy Rankin said: "We are communicating regularly with the people who use our services to make sure they remain safe and are supported through this difficult time.
She added: "We are extremely grateful to everyone in the Guide Dogs family who is doing their utmost to help us meet this challenge and we are also incredibly grateful for the vital support of the general public in this difficult time. We need it now more than ever."