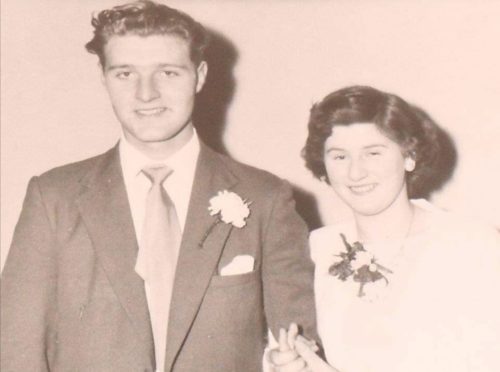 A Montrose couple will celebrate their Diamond anniversary on May 21 in a more modest fashion than they anticipated thanks to lockdown rules.
Mima Robertson, 79, credits "a bit of give and take" for the 60 happy years she has spent with husband Sye  80.
"I just think we're a good match," she said. "We get on with it and we have our hobbies."
Mima and Sye have known each other since their schooldays and were married in Craig of Manse Parish in 1960.
They had plans to celebrate the occasion on May 24 at a local golf club with a social gathering, but the coronavirus outbreak put paid to that.
Mima added: "It's disappointing, but there's so much else going on in the world.
"I had all the invitations written, but hopefully we can organise something again when this is all over."
The couple had five children, although sadly one died. They also have five grandchildren and four grandchildren.
Most of the family still live in the Angus area, but two great grandchildren live in Shanghai.