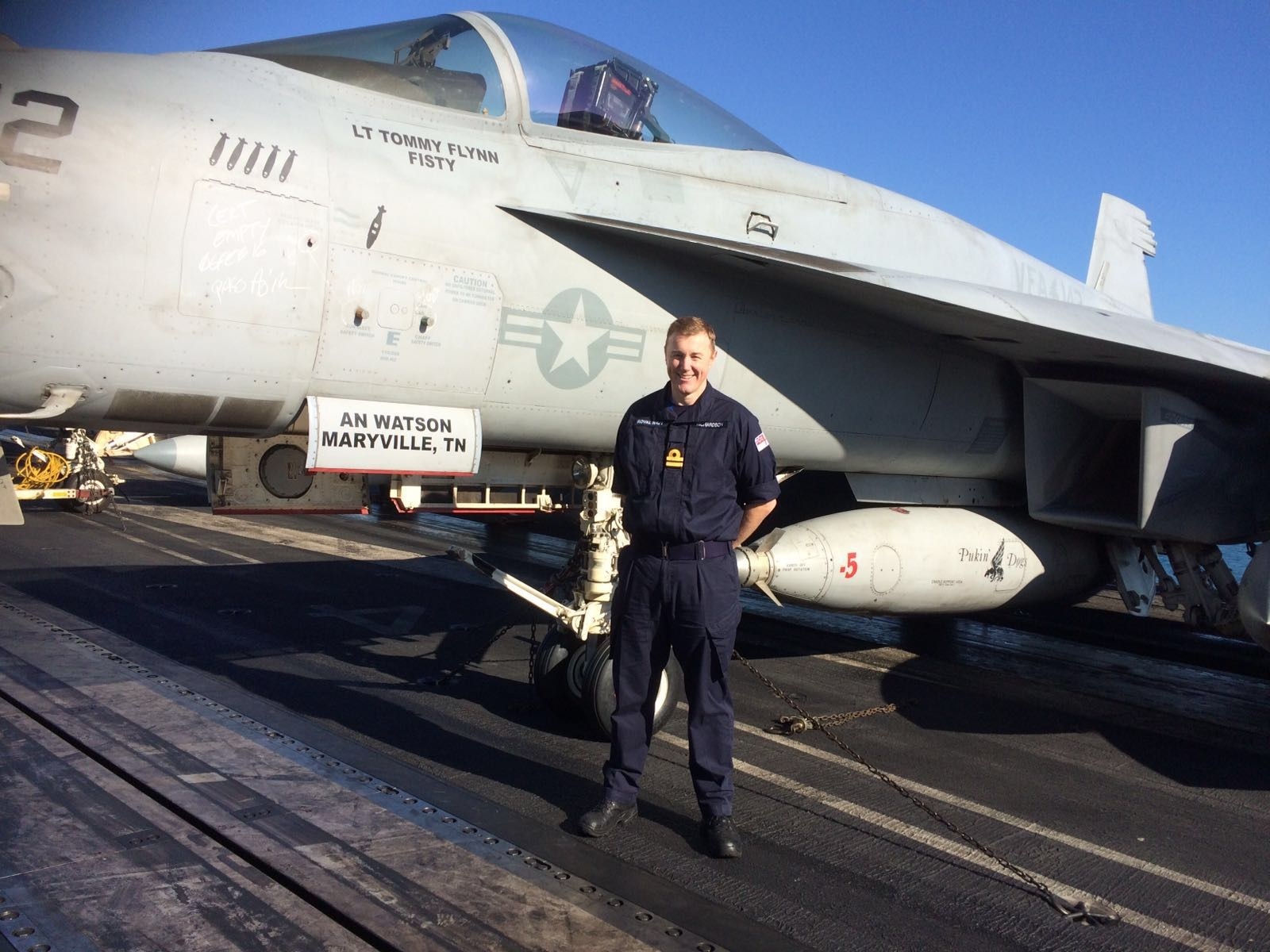 An Angus naval officer has enjoyed a taste of Top Gun on the flight deck of a US aircraft carrier in the Persian Gulf.
Arbroath Royal Navy deck operations Sub-Lieutenant Barry Richardson has been preparing for his role on the new HMS Queen Elizabeth with a month-long secondment on the $4.5billion USS Harry S Truman, the flagship of a United States maritime strike force.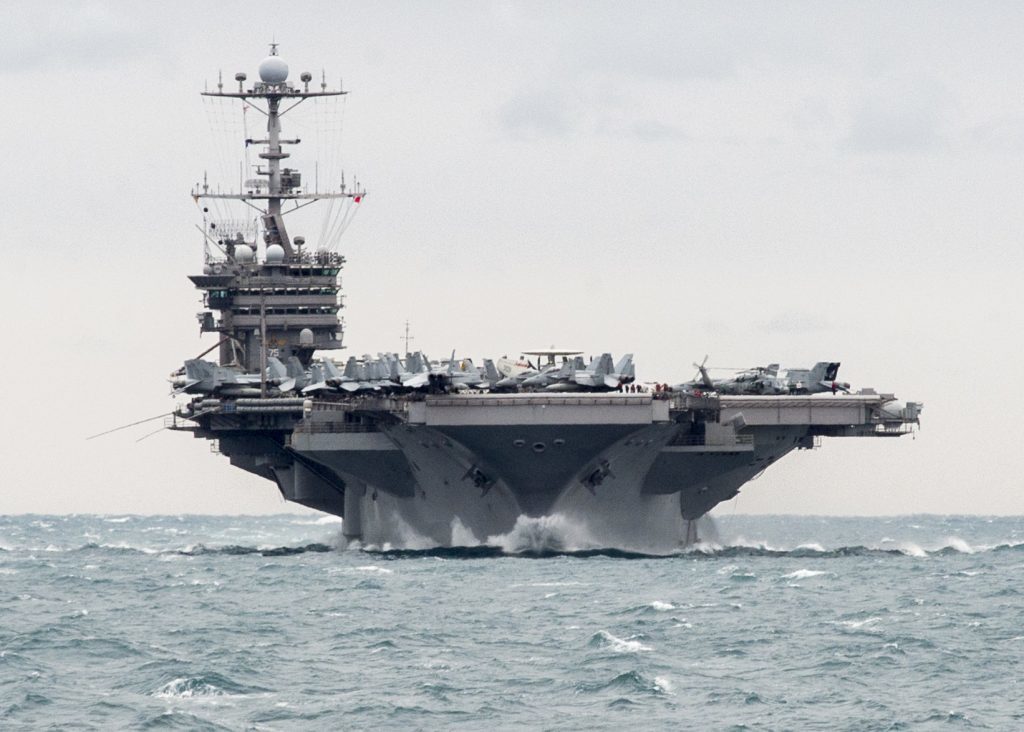 Known to his friends as Tiny, Sub Lt. Richardson is responsible for orchestrating the movement of airplanes and helicopters around the deck and hangar of aircraft carriers, handing them over to air traffic controllers just before take-off.
With the 280-metre long, 70,600-tonne HMS Queen Elizabeth due to be commissioned next year, the 37-year-old who now lives in Oakham, Rutland, found himself operating on the 100,000-tonne plus US warship to hone his skills and get a feeling for the sheer scale of the vessel he will soon be working on.
Dad-of-two Barry said: "I enjoyed working with the US Navy, operating F18 fighter jets to get a feel for just how crazy things are going to get on a deck the size of HMS Queen Elizabeth.
"Although I have many years of experience working on flight decks with Harriers, they were a great deal smaller than Queen Elizabeth and the Harrier was actually quite a small aircraft in comparison to the new F35.
"Together, the F35 and our new big deck represent a massive leap for the UK in terms of capability, and I am excited to be part of it.
"Before any of this can happen however, we need to design training, orders and procedures that will allow us to deliver this exciting new capability from the deck of HMS Queen Elizabeth safely and efficiently. This is what is occupying most of my time at present.
"Flight decks are amongst the most dangerous places on the planet to work so this is a very important phase."
Barry attended Keswick School and Arbroath High before joining up straight from school in 1997 and then gaining a degree in aeronautical engineering (avionics) through the Royal Navy.
He added: "In terms of operating military aircraft at sea, there truly is no busier platform to work from.
"Operationally, Truman is exceptionally busy, allowing my colleagues and I to gain a huge amount of knowledge and experience from our US Navy counterparts.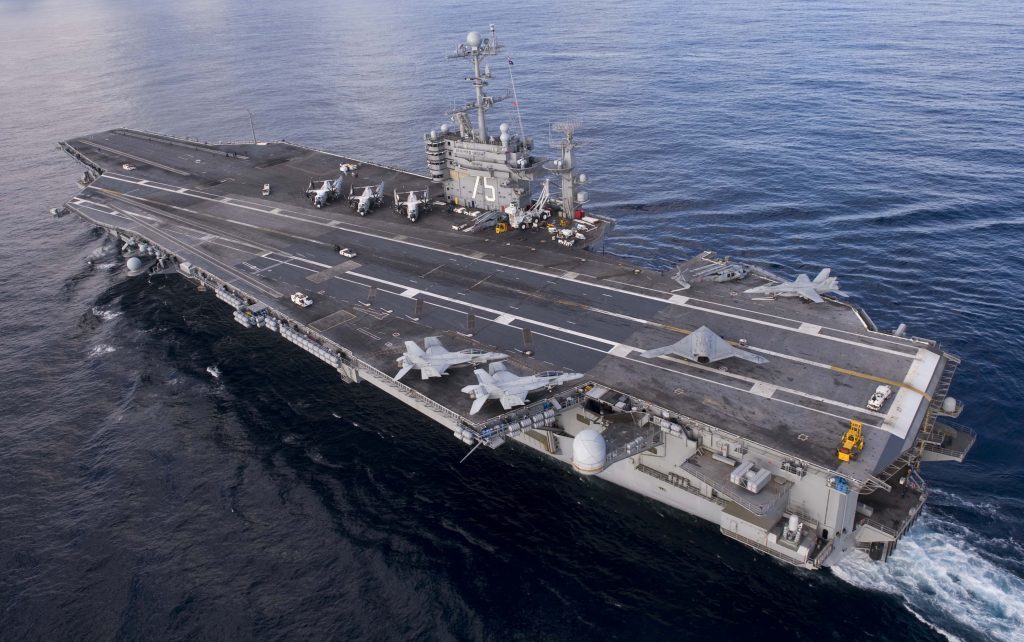 "The trip has been vital in preparing me for the tempo and size of what we will one day achieve with HMS Queen Elizabeth.
"Having only just become a commissioned officer, it was an exceptionally steep learning curve, but I am excited about the challenges I am facing and being involved in the next chapter of Royal Navy maritime aviation."