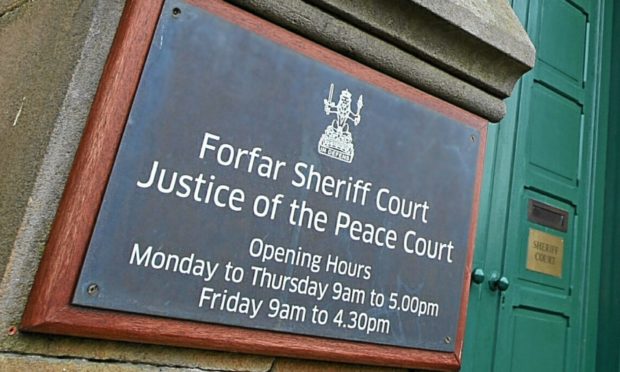 A Tayside man who threatened to blow up a police van has been told to expect an "awfully long" jail sentence.
Norman Simpson and his younger brother Callum were arrested after a drink-fuelled disturbance in Montrose last month.
The older man, 32, told officers he knew "Billy Handy" – referring to a recent High Court case that saw William Handy and Craig Guest jailed for setting fire to a Dundee policeman's car.
While Callum Simpson, 22, from Montrose escaped jail over attempting to assault Ninewells staff and assaulting his partner in an earlier incident, his older brother was told his bomb threat would likely see him go to jail.
Norman Simpson, from Dundee appeared from custody at Forfar Sheriff Court and admitted causing a breach of the peace on July 15 in Southesk Street, and threatening police officers.
Fiscal depute Kirsten Thomson said: "During the course of his journey to Arbroath Police Office he threatened officers.
"He said, 'I'm going to blow your van up.'
"I know Billy Handy and what happened to David Farr and Ross Clark."
Businessman Handy and personal trainer Guest were jailed for a total of 11 years for setting fire to PC David Farr's car at Ballumbie in 2014, because Handy felt the constable and fellow PC Ross Clark were persistently following him and "frightening" him in their unmarked silver Audi.
Deferring sentence to October 20, Sheriff Gregor Murray told him: "Officers are entitled to take very seriously threats of this nature.
"I can warn you now that you are going to jail for an awfully long time for these offences."
Callum Simpson admitted assaulting Billie Jean Whyte by throwing household items including a vacuum cleaner at her and pushing her to the floor, causing her to strike her head to her injury on February 8 this year in Fergus Square, Arbroath, and resisting arrest at McGregor's Walk in the town, lashing out at constables Gordon Smith and Darren Burnett with his arms and legs, and breaching the peace on July 15 in Ninewells Hospital.
He also admitted breaching the peace at McGregor's Walk on February 16, threatening to slit the throat of Ms White's landlady, breaching bail.
His defence agent said: "His actions were inappropriate … he puts this down to his anger management difficulties.
"He had been drinking heavily with his brother to the point he was unresponsive in the police car."
Sheriff Murray told him: "Two things save you from going to prison.
"There was a six-year gap in your offending, and the law says I am supposed to try something else with you other than send you to prison, because of your age.
"With considerable reluctance I am prepared to place you on a community payback order for each of these complaints."
Callum Simpson will undertake 180 hours of unpaid work in one year, with a review set for November 17, and will be subject to an 18-month supervision order.