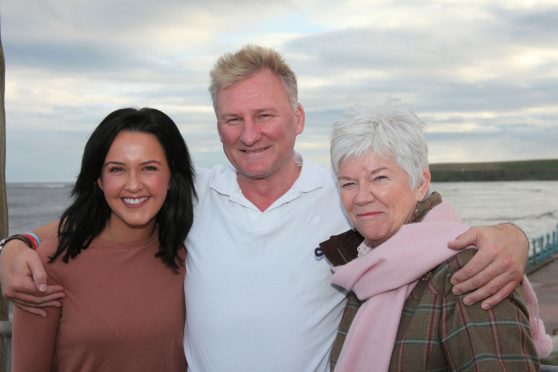 An Angus man is planning to walk 175 kilometres through Kenya to raise awareness of the plight of HIV/AIDS orphans.
Mark James from Montrose will walk non-stop from Nyumbani Village to Nyumbani Home to raise awareness and funds in Kenya with the help of Rotary and Rotaract in that country.
He first visited Nyumbani in 2015 with his mother Alison Stedman who has spent the past 14 years helping with fundraising and volunteering for orphans with HIV in Kenya.
Mother-and-son will be joined on next year's trip by Emily Wood from Montrose who fell in love with the kids and all things Nyumbani when she went there in February.
Mark said: "I realised that September 8 2017 is the 25th anniversary of the founding of Nyumbani and another idea came into my mind.
"I could walk non-stop from Nyumbani Village to Nyumbani Home to raise awareness and funds in Kenya with the help of Rotary and Rotaract in that country.
"Because of the re-run of the elections in Kenya we are now embarking on this challenge at the end of January.
"More fundraising is required at home though as my mum doesn't allow anyone to go to Nyumbani without some money in their hands.
"The whole experience of Nyumbani made me realise how lucky I am to have a loving family, food on the table, money in my pocket and above all health and happiness."
Mark's mother Alison – chair of the COGRI-Nyumbani (Scotland) Trust – will make her final working trip to Kenya in January after 19 missions over the last 14 years.
During her charitable career, Arbroath Rotarian Alison's team's efforts have supplied five houses, a block of four teacher bedsits, two classrooms, irrigation, solar pumping, wells, 100 cooking shelters and a large literacy project in Nyumbani Village.
The team will refurbish one of the clinics and repaint the respite centre during January's mission.
The orphanage currently provides shelter for more than 135 HIV orphans and houses a busy diagnostic laboratory serving the orphanage and the wider Nairobi area, raising much-needed revenue.
A new respite centre has been opened bringing in the most malnourished children from the resource poor communities for medical attention and sustenance before returning them in good health to their carer.
Nyumbani Village, soon to be a self-sustaining eco-village in the district of Kitui, has been purpose-built to provide homes and full supporting services for the destitute grandparents and their dependant grandchildren, the infected and affected.
A hundred houses hold one hundred grandparents and over 1,000 children
Alison said: "Seeing the toddlers I met when I first came out here now healthy, educated and in jobs with somewhere to live makes it all worthwhile.
"This will be my last working trip but I will keep going out because the people of Nyumbani have become my second family."
A concert featuring Paul Hastie-Gray and Paul Sullivan is also being held to raise funds in the Old and St Andrew's Church in Montrose on December 15.