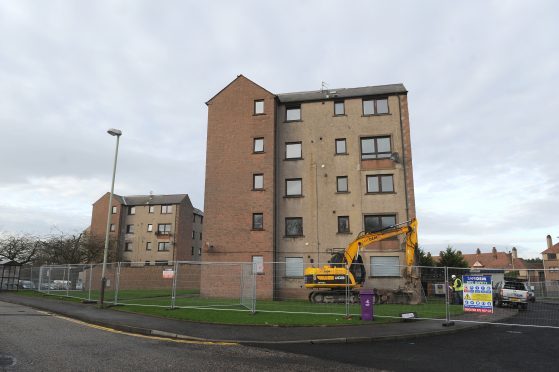 The transformation of a once-troubled housing scheme in Arbroath has resulted in the removal of a public right of way.
Angus Council has taken steps to remove the public right of passage to existing public roads as part of its re-development of the Abbey Quarter.
Work began in November to create 40 new affordable council homes for rent in a project to replace four blocks of empty council flats at Guthrie Hill and Smithy Croft which had become increasingly unpopular and difficult to let.
As part of the re-development, members of the local authority's communities committee agreed to the creation of a stopping up order to extinguish public right of passage over the existing roads at Guthrie Hill and a section of Smithy Croft.
Ian Cochrane, head of technical and property services, reported the former flatted dwellings in the area have been demolished and are to be replaced by a new development of affordable housing comprising of six houses and 34 flats.
The redevelopment proposals include new road alignments for the former roads which serviced the areas.
Those sections of former public roads which are no longer necessary require to be stopped up.
The cost of implementing the removal of the former roads will be met by Angus Council Housing Division as part of the overall redevelopment works.
The overall reduction in maintenance costs will amount to £1,000 per annum in future years.
Speaking as work began on the site last November, Monifieth and Sidlaw Conservative councillor and communities convener Craig Fotheringham said: "Arbroath Abbey is historically and culturally important and the new development will improve this previously unpopular area to become a place where people can enjoy life and living.
"It will deliver modern low-rise affordable council accommodation for single people, couples and families within an environment that has open spaces, landscaped areas and dedicated parking.
"The development will complement and enhance the approach to the Abbey and improve accessibility to Arbroath's High Street retail area."