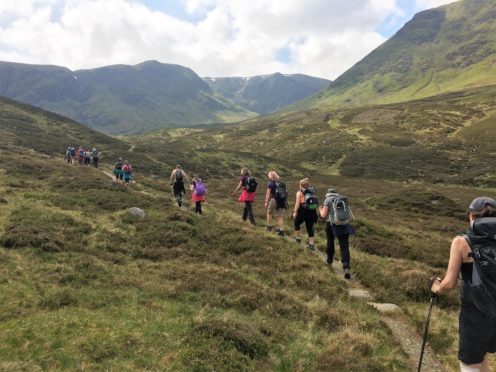 This year's Angus Glens walking festival has been hailed a huge success by organisers.
The 16th annual festival was more popular than ever with a 94% uptake of all places booked with 229 walkers taking part.
The festival covered 20 walks over four days, through breathtaking scenery, open moorland, heather-clad hills, mountains, rivers and crags.
Event manager Norman Greig from Angus Alive, said: "The 20 walks were graded from extremely strenuous, for example Jock's Road and the Four Munro Challenge, to moderate which included the Minister's Path and the Rocks of Solitude.
"Walkers came from all over Scotland, including a couple from Orkney, across the UK and a further afield with a group from the United States joining the event.
"One of our regular customer from the south of England has never missed the Festival throughout all its 16 years. Of all the reports I received a few leap to mind immediately.
"There was a sighting of the golden eagles on the Four Munro Challenge and Raptor Watch walks, the baby adders on the Falls of Damff walk and a report of a lady's hair standing on end during and electrical storm one of the walks on the Saturday – a hair-raising experience you might say.
"Seventeen of the 20 walks were fully booked which was proof that the balance of very strenuous Munro bashing type experiences with the moderate wildlife rambles was right.
"Through our collaboration with Artisana, walkers were able to prepare themselves for the day ahead or refuel with coffees and tasty treats from their Vintage Mobile Patisserie which will also be popping up at Crombie and Forfar Loch Country Parks over the summer."
Mr Greig said his team are already thinking about the adventures they can enjoy on the hills next year.
Designed to appeal to all levels of ability, the walks for the festival were identified in the programme by a key, from moderate to extremely strenuous.
One of the most popular was Jock's Road, Scotland's oldest right of way, while the Mount Keen walk was back for 2018.