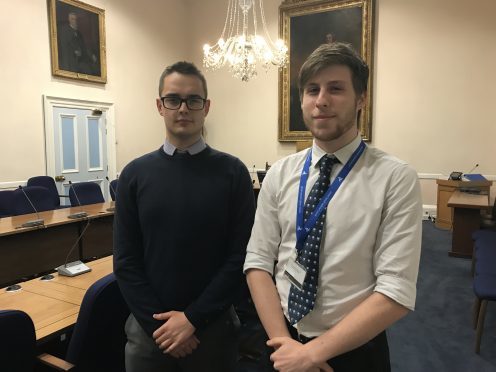 Another bid has been launched by the two youngest councillors in Angus to change council meeting times.
Conservative Forfar councillor Braden Davy and Monifieth Lib Dem Ben Lawrie will lodge a motion at full council on Thursday.
Mr Davy said they hope to be successful with their motion to move some meeting times to 5pm to make Angus Council "more accessible".
"Angus Council has a skewed age profile, with only a handful of councillors aged under 40," he said.
"One of the biggest barriers to young people standing for election is that the council meets at 2pm or 10am, during a time when young people may be working or at university.
"Indeed, this could be a potential barrier to many other people too.
"Many other councils meet much later, including Dundee which meets at 6pm, which allows those who may work or have other commitments to stand, get involved, or get elected.
"Angus Council also suffers from very poor public attendance at our meetings, again, in part because we meet when people who work may not be able to attend.
"Moving some of our meetings back to a friendlier time would create more options for local residents to see first-hand meetings which may be of interest.
"Importantly, this motion makes Angus Council meetings occur at 10am, 2pm and 5pm. It is simply about creating more options, not removing them.
"I hope this motion will be backed by Angus councillors, so we can get more young people involved in our council, and create a more open and inclusive Angus Council for all."
The motion is the second attempt to change the meeting times, after the pair backed a motion in October 2017 which was ultimately defeated by the provost's casting vote.
The motion points to the Scottish Government's payment of councillors, where it states councillor remuneration is based on them working part-time.
The councillors believe that holding meetings at 10am and 2pm may mean future councillors are deterred from standing as it would be difficult to combine another job with that of being a councillor.
The motion would seek to move some meetings to 5pm, with meetings of the Development Management Review, Development Standards, and Civic Licensing continuing to be held at 10am or 2pm.