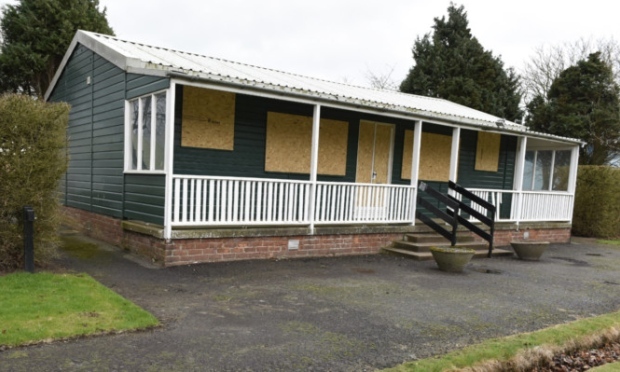 An innovative new use is set to blossom in a former Angus bowling pavilion.
Linda Cooper, from Brechin, has submitted a planning application that would bring the old Inch Bowling Club building at Rossie Island in Montrose back into use as a base for her new flower business.
Linda has been a keen flower arranger for several years but decided to start a company after she was named the Scottish Association of Flower Arrangers' designer of the year last year.
The pavilion is owned by Angus Council but has not been used since Inch Bowling Club closed in 2014 as part of an amalgamation of clubs.
Linda has agreed a lease deal with the council for the premises but this is dependent on the council approving its change of use.
She said: "The bowling club is no longer operational but the building deserves a future.
"The future I am proposing will see regeneration and reuse of this underused building in a sympathetic and wholly suitable way.
"My proposal will retain the green, open space character the pavilion already enjoys and protect it."
After winning the Scottish flower arrangement competition last year, Linda then represented Scotland at an event in Blackpool.
She said: "I'd been making flower arrangements for friends and family members for a considerable amount of time.
"But winning the big competition in Scotland and then representing my country in flower arranging was a great experience.
"After that happened to me, I realised that I wanted to turn my hobby into my career and since then I've been looking for suitable premises to put my business on a firmer footing and really make a go of it.
"I'd been looking for premises that's something a bit quirky, that was a bit different."
Linda plans to convert the bowling club premises into a flower studio and workshop which would offer flowers for weddings, funerals and special occasions.
There would also be an area for potential clients to discuss their requirements at the studio.
Linda added: "The pavilion is an attractive building and with my proposed change of use will become even more so.
"The exterior of the building is in good condition and will be enhanced with the addition of seasonal cut flower plantings and with the use of pots and containers.
"My vision is to turn a pre-loved, under-used building into a quirky, living, vibrant 'flower pavilion'.
"I feel there is an opportunity at this time for a new business to enter the market and serve Angus and beyond."