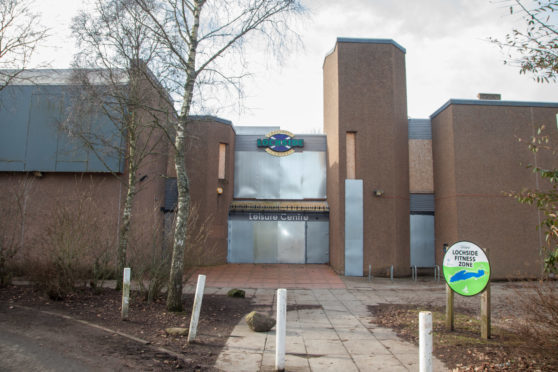 Angus Council has opened the door to offers for the troubled Lochside Leisure Centre in Forfar.
In a remarkable U-turn over the possible future for the empty facility, the local authority has admitted it could accept "an appropriate open market offer", throwing into question the planned £300,000 demolition of the building.
The revelation came following increased pressure on the local authority to reconsider its decision to raze the sports centre to the ground as more plans emerged for its possible use. It closed in February 2017.
One week after leading property developer Mark Guild slammed the local authority for paving the way for the building's demolition, another prominent businessman revealed he lodged a note of interest to purchase the building three weeks ago.
It also emerged staff at Forfar-based Angus Care and Repair met a senior council officer 15-months ago to discuss the possibility of converting the building into a dementia-friendly facility, seven months before the council agreed to demolish the building.
Judith Leslie, service manager, has now urged the council to reverse its decision to flatten the building.
She said: "We approached a senior officer in the council about the possibility of an asset transfer of the leisure centre in October 2017 for us to use as offices upstairs, to develop a dementia friendly café downstairs and to turn at least one of the squash courts into an exhibition area for adaptations and telecare."
Plans were drawn up but in December 2017 the organisation was told the building was "structurally unstable".
The second businessman, who did not wish to be named, revealed ambitious plans for transforming the centre into a cinema, indoor trampoline park and restaurant.
He had also hoped to re-open the nine-hole golf course adjacent to the boarded up building.
He said: "It has never been put on the open market, the council took the decision to demolish it and its going ahead.
"They should have tested the market to see if anyone was interested. The opportunity is wasted, it's too late now, the decision has been made.
"There should have been a consultation within the community to find out what they could do with the place.
"I put in a note of interest but was told it is being demolished – end of story."
An Angus Council spokesman said: "While we have not sought any bids for the building, there has been nothing to prevent anyone from making an appropriate open market offer – a position made clear to any interested parties on enquiry, along with guidance on the building's condition, associated responsibilities and relevant legislative processes and timescales.
"No formal or acceptable offers have been received to date and, as such, we are proceeding with agreed plans to demolish the building."