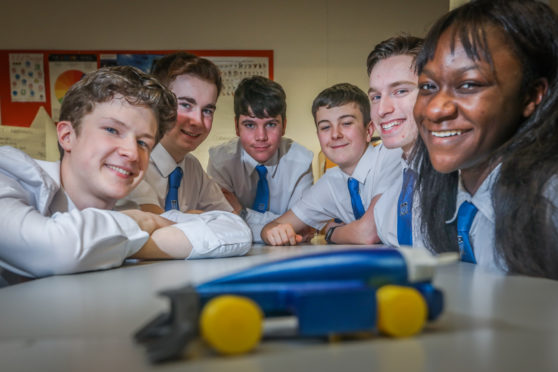 Whizz kid designers from an Angus secondary school are heading for the grid in the race to be crowned the UK's F1 in Schools champions.
Among just three schools from north of the border, Monifieth High's Bowman Eagles Racing Team will take their miniature race car of the future to the Welsh factory of aviation giant Airbus this weekend to do high-speed battle for a place in the world finals of the prestigious competition.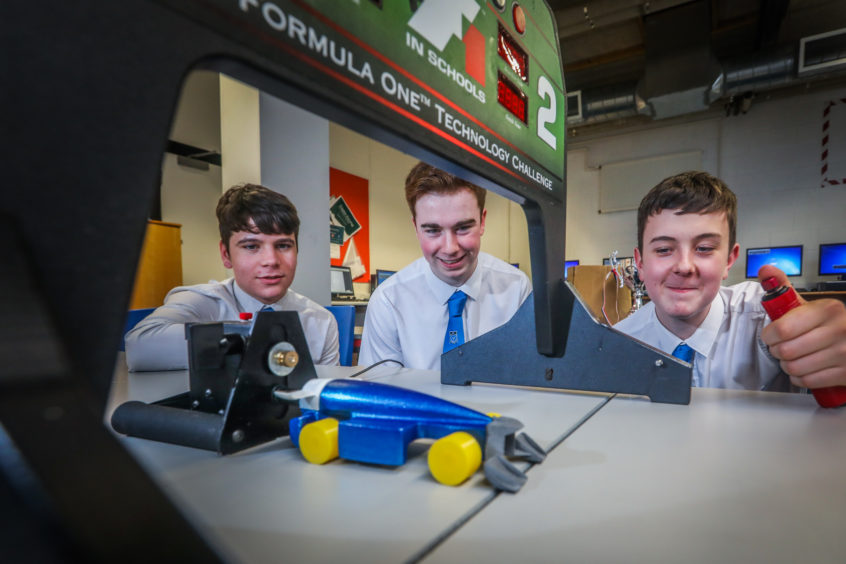 The six-strong Angus team face a demanding weekend of racing and presentations – and for some of the young racers the UK final opportunity is a case of unfinished business.
F1 in Schools began in 2000 and since then has become a global classroom phenomenon, with more than 26 million pupils in 48 countries involved.
Aimed at youngsters from nine to 19, its key aim is to change perceptions of Science, Technology, Engineering and Maths (STEM) through the fun challenge of setting-up a Formula One team, designing a 15-20 centimetre scale model and then pitting the compressed gas-powered 3-D printed machine against rivals in a race down a 20 metre track.
The remarkable mini-racers hit 45 miles per hour, crossing the finish line in the blink of an eye.
Bowman Eagles Racing's outfit is made up of team leader Logan Cosgrove, 17, enterprise manager Emmanuella Damptey, 17, design and manufacturing engineer  Ben Birtwhistle, 16, social media manager and designer Matthew Ritchie, 16,  sponsorship and outreach manager Zac Brownlow, 16, and manufacturing engineer and driver Matthew Begg, 16.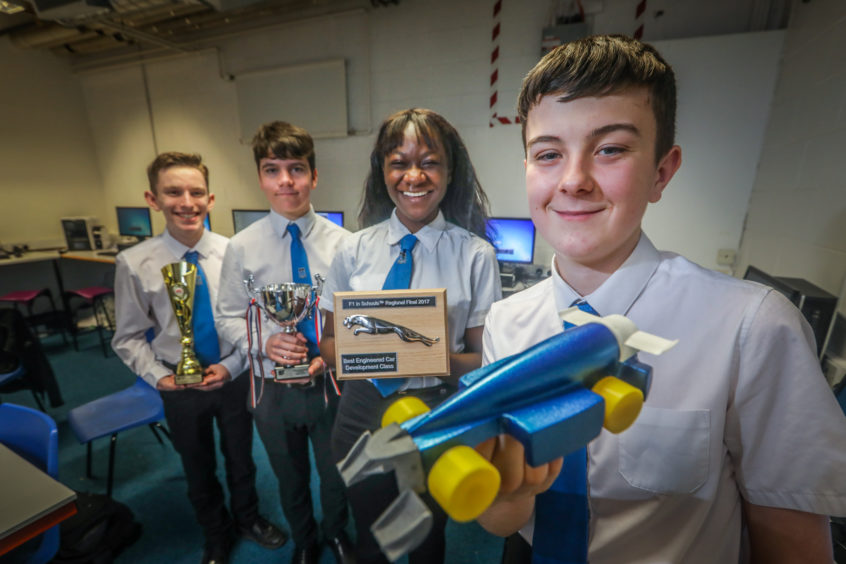 A lightning trigger finger is required to power the car off the line, with Matthew aiming for a reaction time of around 0.15 seconds, and the team hope the estimated 250 design tweaks they have made to five different prototypes will pay off after months of hard work.
Monifieth has a proud reputation in the competition and the school's Blue Eagles team – containing some of the Bowman Eagles members – produced the fastest time in the UK's development class category in 2017, before missing out due to a technical infringement in the massive rule book.
The team has now moved up to the professional class and engineer Ben said: "There are loads of regulations you have to follow, but testing has been pretty promising so we hope we can do well again.
The UK champions win tickets and exclusive paddock access to the British Grand Prix, as well as an F1 team factory tour, scholarships worth £10,000 and a £5,000 race track and control system.
Also up for grabs for the elite of the UK final is a place in the world showdown, held last year in Singapore.