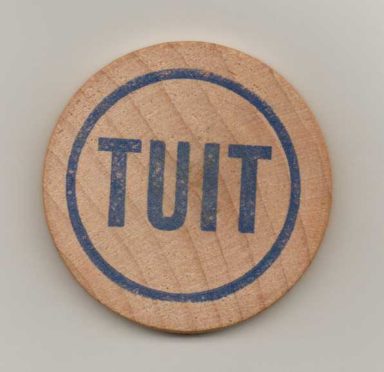 New Yawkers flooding to the 1964 World's Fair at Flushing Meadows in Queens surely realised just how lucky they were.
For there, under the magnificent 12-storey high Unisphere among 140 pavilions covering 650 acres were nestled the first round tuits.
If the ad agency geniuses of the baby boomer generation didn't market them as the answer to every procrastinator's prayer they should have, and for more than half a century since, the little circular curious have become a quirky gift for everyone who might be considered a bit of a putter-offer.
In other words, all those who promise they'll get a round tuit.
Probably the same folk who, invigorated by the warmth of a glorious Easter weekend, drew up lists of wee jobbies they will definitely, maybe, tackle.
Handyman stuff comes easy to some while others, i.e. yours truly, fall squarely into the have-a-go hero bracket where a tidy job that'll hold together without being inherently hazardous to anyone in its vicinity is a measure of success.
There are many, including the frail and elderly, who can't take on even small repairs, and that's where organisations such as Angus Care and Repair perform such a lifeline function.
Sadly, after quarter of a century of serving the area's most vulnerable residents, the charity will fold in June after funding cuts left it unable to continue.
The situation is all the more sad because of the polarity between the body and those pulling the purse strings.
Angus Care and Repair say they have suffered an almost six-figure reduction in support over the past few years.
Angus Council and the area's Integration Joint Board have criticised them for failing to engage in a tender process to deliver repairs and adaptations required to keep people safe and secure in their own homes for longer.
Care and Repair's role went well beyond just the physical task of fitting a new door chain or putting a battery in a smoke alarm and the charity fears the new set-up won't have the time or inclination to look beyond the job sheet to the person beyond.
In response, the authorities have said there will be no funding reduction and the work will be done quicker and better.
For the safety and security of those who require it most, let's hope those promises ring true and they're not left hunting for a round tuit.