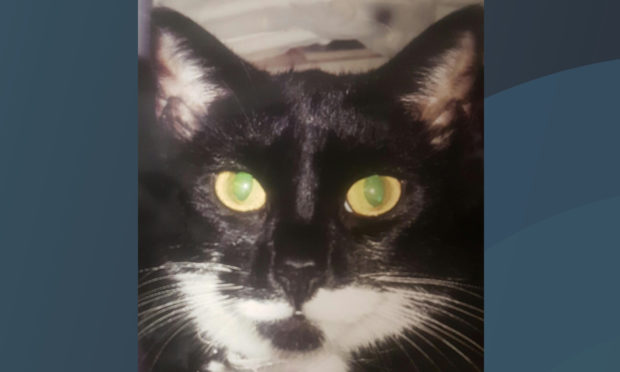 An Arbroath cat has had to be put to sleep after another horrific incident involving a town pet.
The animal came home without its tail – which was subsequently found by two shocked young girls – but did not survive the ordeal.
How it came to suffer the injury remains a mystery and its owner has made a plea to other cat owners to keep a close eye on their pets, coming just days after another cat lost its life when it was caught in a makeshift snare in the same part of the town.
Samantha Forsyth immediately spotted the injury when 11-year-old Squirt arrived home earlier this month.
"She goes out and about, but comes home most nights," said Samantha.
"This time she had been away for three days and I was out walking the dogs when I heard her miaowing outside the house.
"I thought there was something just not right about her, and when she came back in I saw that her tail was completely gone."
Sadly, despite taking the pet to a local vets, Squirt suffered bowel complications and the family had to take the heart-breaking decision to have her put to sleep.
The family have another cat, two-year-old Squish, but have been devastated by the tragic end their pet endured.
"The vet said they'd never seen an injury like it. There was just a massive hole, but we don't have any idea how it could have happened.
"She was doing everything and purring away, but then she couldn't go to the toilet and we had to have her put down."
A Facebook posting revealed two young girls had made the dreadful find in the area near Squirt's home, and the possibility that the injury was a deliberate act has been widely condemned on social media.
The incident follows the horrific discovery of a cat found caught in a makeshift snare in an Arbroath garden.
It is thought the wire snare was set up in an attempt to catch an urban fox, but it trapped the pet, leading to injuries from which it subsequently died.
The SSPCA warned about the danger of snares and said they backed a complete ban on them.
"Snares cause unimaginable stress and suffering to an animal. They are non-selective and can just as easily harm non-targeted wildlife as a domestic animal, as in this case.
"As long as snaring continues, suffering will continue."
Anyone who finds a snare, or encounters any other instance of animal cruelty is asked to contact the organisation's confidential animal helpline on 03000 999 999."