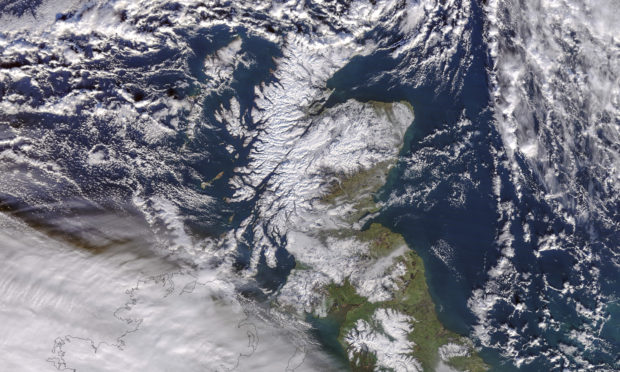 Scotland's fickle weather clouds have brought a silver lining for Angus Council bean counters.
A year after the so-called Beast from the East blasted a near £1 million hole in the authority's winter maintenance budget, one of the mildest winters in living memory has resulted in a six-figure balance sheet saving.
Data for the 2018/19 winter programme, covering the period from October 30 to March 31, has revealed Angus recorded the lowest number of days with fresh lying snow for 15 years.
Morning gritting of priority routes was at the second equal lowest level in a decade and a half.
Roads service leader Walter Scott will tell communities committee councillors on Tuesday that the level of evening priority carriageway treatment and priority footpath gritting levels were both far down the league table in comparison to previous years.
Around 11,000 tonnes of the 19,000 tonne salt stock that was in place heading into the winter was spread on Angus roads.
The A90 trunk road through the county is maintained by BEAR Scotland on behalf of Transport Scotland. Mr Scott said the mild conditions meant local crews were not called on at any time to assist clearing operations on the dual carriageway.
His report to the committee says the net budget for winter maintenance was set at £2,613,000 for 2018/19.
"Around half of that figure was made available for day-to-day operational costs including gritting and snow clearing," he said.
"The unaudited outturn expenditure figures for the 2018/19 winter service indicate a total cost of £2,458,000, which is £155,000 lower than the 2018/19 revenue budget allocation."
The 2018/19 picture contrasted starkly with that of the previous year, where the late season Beast from the East blast brought misery to communities and pushed the council's planned £2.7m winter maintenance spend to around £3.5m.
Angus communities convener, Montrose Independent councillor Mark Salmond said: "The fact these two extremes have come in back-to-back years illustrate it's impossible to predict how a winter is going to play out.
"Our officers use their experience to set a budget figure for winter maintenance and there are fixed costs, regardless of how severe or otherwise the conditions are.
"However, anything that comes in under budget in the current financial climate has to be good news for the council and the people of Angus," he added.