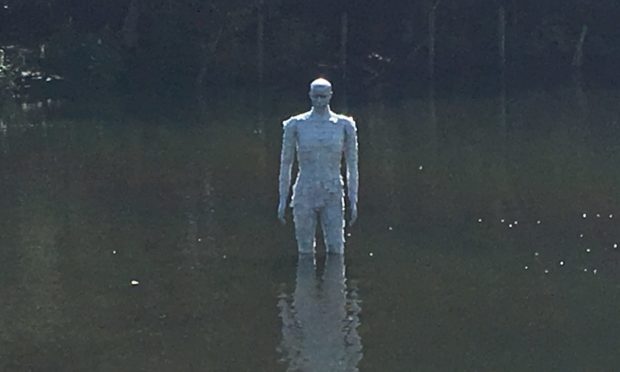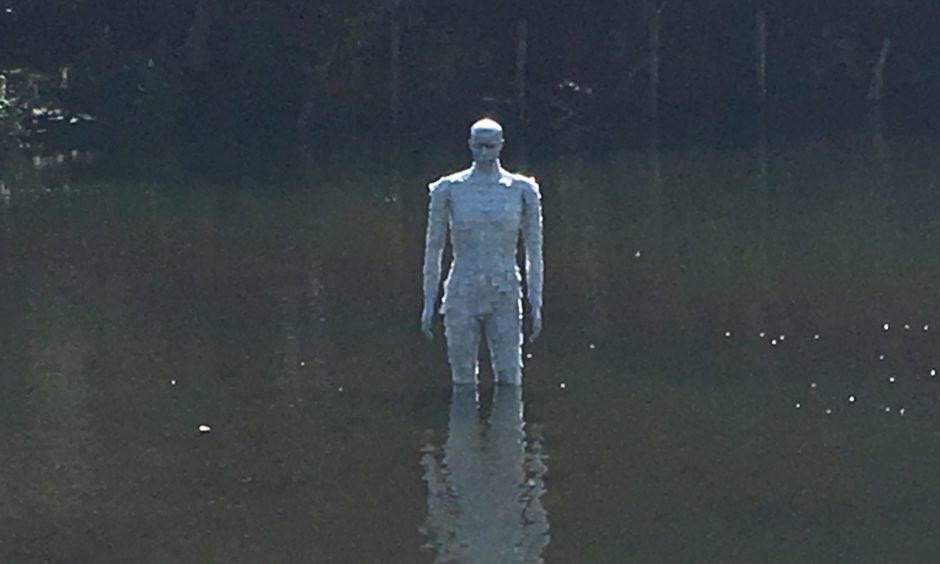 Crowds gathered at Arbroath's Keptie Pond over the weekend after a mysterious statue appeared in the water on Saturday morning.
The sliver humanoid figure, which is knee deep in the water and described as looking like an alien, drew families from around Angus to the pond.
Speculation continues to grow over the identity of the artist behind the statue.
Volunteer group Keptie Friends posted on social media to say they did not know who was behind the piece.
Most were in favour of the new arrival, which locals have nicknamed Keptie Kev or Mirror Man, but some said the "creepy" piece should be taken out of the pond.
The statue, which was fitted with solar panels and lights, lit up overnight. It toppled over on Saturday evening but fans of the work had righted it by mid-morning on Sunday.
Linda Dickerson, from Arbroath, said: "I love these sorts of things. I just think they are great. Look how many people have come down just to see it? It looks well done by whoever has created it."
Kayaker Lee Mitchell brought his vessel to get a look up close. He paddled to the statue and said: "I can confirm that he's not alive.
"It's got a solar panel on the back and it's covered in decoration which looks like a plastic kind of chainmail," he added.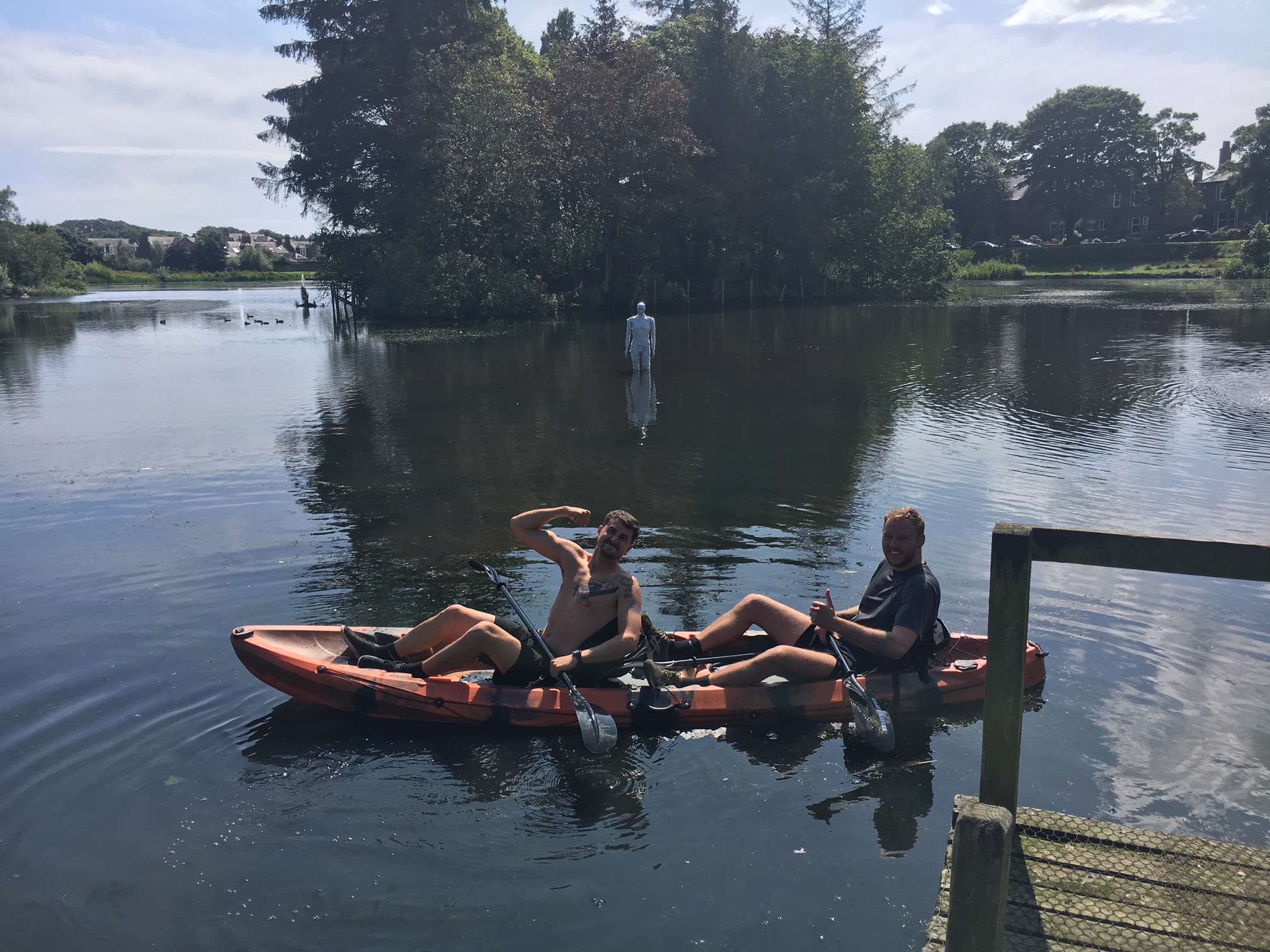 Iain McGurk, a joiner from Arbroath, said: "It's unusual – I'll say that. It's brought people out. It's something the area needs, especially since the row boats were taken away from the pond. It's never been so busy."
The piece has been linked with Rob Mulholland's iconic 'Mirror Man' statue, which was removed from Loch Earn last year.
But the artist said the Arbroath installation was not his work.
He said: "If it is has been called the Mirror Man, then it is not my one. Hopefully someone has been inspired rather than copied it."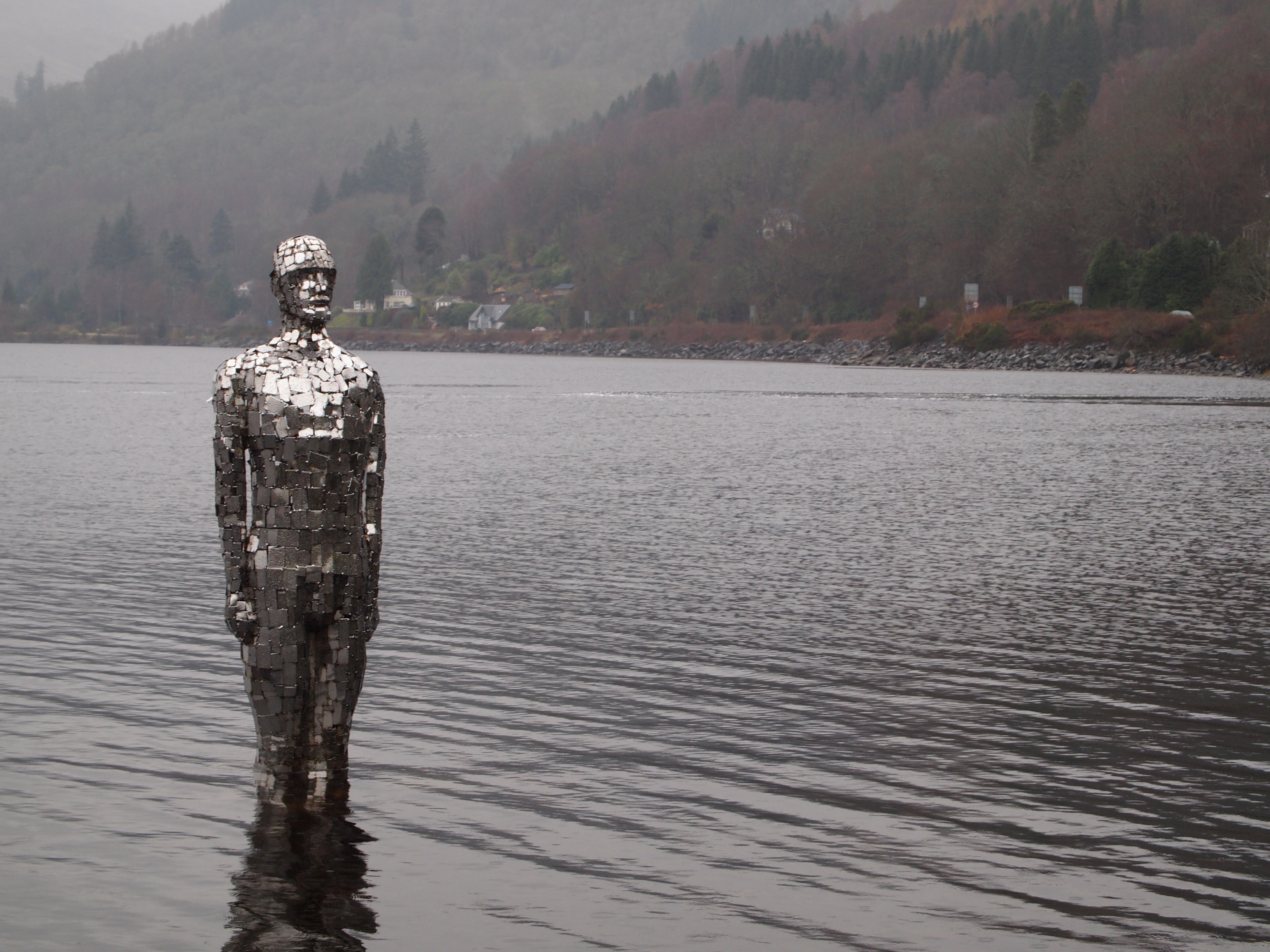 Another theory links the statue with Turner-prize winning artist Antony Gormley's figures, which were recently returned to locations in the Water of Leith in Edinburgh.
The Keptie Pond statue, however, appears to have been made from a mannequin with plastic decoration, rather than Gormley's cast iron sculptures.
Kirsty Hawe brought her daughter Mirren, 3, to the pond to the see the statue on Saturday afternoon.
"I want to see him because he looks so funny," the toddler said.