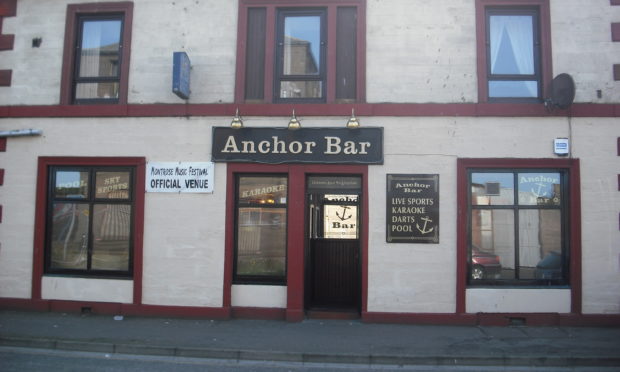 A Mearns man has been ordered to complete unpaid work after grabbing the privates of at least two people in an Angus pub.
Alfred Rae 48, appeared in Forfar Sheriff Court on September 12 for his sentencing after previously admitting groping a man and two women at the Anchor Bar, Montrose, on July 15.
A bizarre night of karaoke went wrong for Rae, who had consumed too much alcohol in an attempt to console himself after the loss of a close friend.
Rae, of Southbarns Brae, Laurencekirk, had no previous convictions prior to the incidents.
Sheriff Gregor Murray ordered Rae, who was visibly embarrassed during the court appearance, to complete 140 hours unpaid work and placed him on supervision for six months.
On the night, the male victim was singing karaoke when Rae put his hand on his shoulder. The man assumed this was a gesture to join in with the song.
However, Rae's hand ventured south, groping the singer's genitals. The victim started shouting "stop touching me" through the microphone, but nobody in the bar seemed to notice, the court heard.
Rae approached the man again five minutes later at the bar, this time placing his arm around him, causing the man to move away.
Rae's busy hands were not confined to man, however, as he then grabbed a female's buttock. The woman was at the club with the male victim.
Rae had also lifted up the skirt of another woman who was in the bar.
The drinkers told some staff members what had happened, but they "appeared to not take much notice", the court heard. The victims then went to a police station in Montrose to report the incident.
Rae was later found lying face down on Ferry Street, heavily intoxicated, by officers.
He was taken to the police station and charged, after which he apologised to the officers for his conduct.
Rae's defence solicitor told the court that his best friend had passed away just days prior to the incident, with the funeral looming in a few days.
"He accepts responsibility. It's been an unfortunate case of too much drink."
The court also heard that Rae is married and in business with his brother.
Rae's defence added that his actions where not typical of him and that social workers were impressed with him.
"It's one of the best social work reports I have seen," he added.
Sheriff Murray said that he accepted the matter was "entirely out of character" of Rae before handing him his sentence.