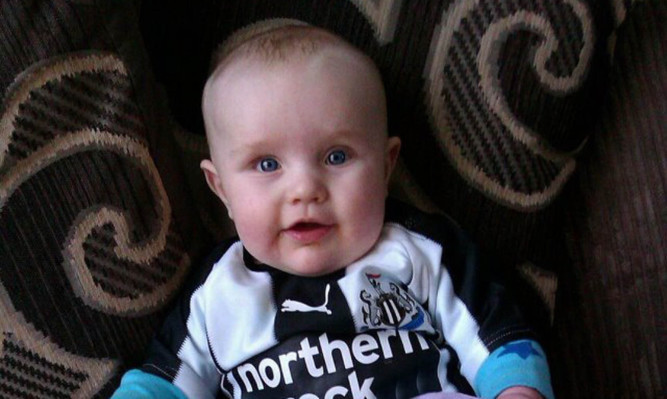 A Fife woman accused of blaming the killing of Liam Fee on a young boy was heard  shouting "evil" and "pervert" at a child in the hours after his death, a court heard.
A police officer said he heard either Liam's mother Rachel Trelfa, 31, or her civil partner Nyomi Fee, 29, making the remarks, but couldn't recall which of them had spoken.
Both women are accused of murdering the two-year-old at a house near Glenrothes on March 22, 2014 and trying to defeat the ends of justice by blaming a boy for killing him.
The High Court in Livingston heard from Detective Constable Gary McMillan, 38, who described the scene at the house as "pandemonium".
Under cross examination by defence counsel Brian McConnachie, Mr McMillan said Trelfa had told him that Fee went to check on Liam around 7pm.
The jury had previously heard that the 999 call had been made just before 8pm.
Mr McConnachie said: "If she's right about that, and obviously if she's telling the truth about that, then her estimate of seven o'clock wasn't particularly good."
DC McMillan replied: "Correct."
DC Douglas Moyes, 36, gave evidence that he recovered items allegedly used by the accused to make a makeshift cage, including a fireguard with cable ties attached.
In a police interview recorded in the early hours of March 23, 2014, Trelfa was sobbing as she gave her version of the night's events.
She told officers she heard a "blood-curdling scream" coming from the two-year-old's bedroom and Fee calling: "Rachel, Rachel, Rachel."
Trelfa said she panicked and got up from the living room couch and ran into Liam's room.
She said: "As I got in Nyomi was just putting Liam on the floor.
"I immediately saw he was pure white and lifeless.
"I then told Nyomi to phone 999 and get the ambulance.
"She put Liam down on the floor.
"I was lying on the floor touching him trying to check his airway.
"I remember moving his head back, lifting his chin a bit."
Trelfa said that, as she walked out of the bedroom where Liam was lying dead, she saw the boy standing at the door of the room.
"As soon as I saw him I could just tell by his face that he'd done something so I ran at him and grabbed him by the tops of his arms," she told police.
"I started shaking him screaming.
"He had this look on his face I can only describe as emotionless and blank.
"There was no emotion in that child whatsoever.
"As I was screaming at him and shaking him, asking him what he'd done, he just looked at me and put his hands up to his face.
"He put one hand on his mouth and the other round his neck.
"The hand over his nose and mouth was like he was suffocating and the hand on his throat was like choking."
In addition to the murder charge, Trelfa and Fee are accused of a catalogue of child neglect and abuse offences.
They deny all the charges against them.
The trial continues.