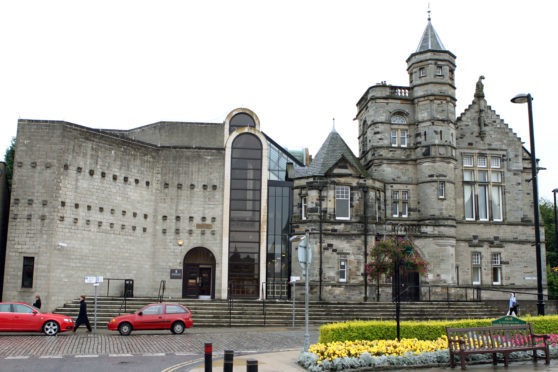 A man living near a suspected brothel has told how he saw a massage table in the living room of the Kirkcaldy flat.
Barry Livingstone gave evidence at the trial against Chin Chih Chang, who is accused of being involved in running the sex shop.
The 56-year-old is also charged with transferring criminal property, namely sums of money, to individuals outwith Scotland.
Mr Livingstone, 45, told the court he knew Chang by the name "Sophia" and that she lived in the ground floor flat at Lord Gambier Wharf.
He added she seemed "nice enough" but "kept herself to herself".
Fife brothel trial: Witness was happy to 'bash on' as massage ended with 'Brucie bonus'
The court also heard how Mr Livingstone noticed men coming to the security door of the block and became suspicious, prompting him to carry out a Google search for information about the flat and any services that were being offered there.
He said: "I saw that there was a massage table in the living room. I saw it once when the window was open. It wasn't always there.
"When I saw the table, I had a look online for massage in Kirkcaldy because I thought it was a bit strange that a table was in the living room rather than in another room."
Mr Livingstone's police statement, taken the day after the May 31 raid, was also read to the court by fiscal depute Ronnie Hay.
The statement said: "For the past four or five months I have been aware of folk, men, coming to the door of the flat downstairs.
"It could be from the back of 10 in the morning until about 8pm. I am away from 8am until 6pm so it's only when I've been on days off that I've noticed.
"It is quite regular and there are a few men. The times I have noticed I have been standing at the window and I was getting quite annoyed.
"Sometimes they press the wrong buzzer. The men were all ages and all ethnics. There is a woman who stays there all the time and has stayed there since sometime last year."
He added that he had seen the woman's "friends" arriving in a taxi with suitcases and that Chang would go out and speak to the car's driver.
Mr Livingstone added: "I was curious to see if this was a brothel so I did an online search."
Fiscal depute Ronnie Hay replied and said: "Wouldn't it be obvious to anybody with half a brain exactly what was going on at 5A Lord Gambier Wharf?"
The court previously heard from a man who was found naked in the alleged house of disrepute whilst it was raided by police.
Alistair McIntosh claimed he initially went to the property for a normal massage but continued to return after getting a "Brucie bonus" from a young Asian girl at the flat.
The trial, in front of Sheriff Jamie Gilchrist QC, continues.