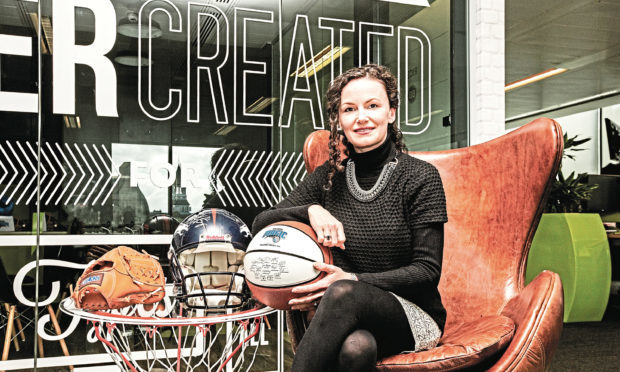 The Forfar-born co-founder of Scottish tech company FanDuel is suing its majority shareholders for millions in the wake of its merger with Paddy Power Betfair.
Lesley Eccles and three of the other four founders of the fantasy gaming firm — her husband Nigel, Thomas Griffiths and Rob Jones — have filed a petition at the Court of Session in Edinburgh claiming the merger purposely undervalued FanDuel's worth.
Edinburgh-based FanDuel was valued at $465m in May's merger, a sum which meant there was no return for ordinary shareholders, which included the five founders and around 500 other investors.
Majority shareholders — the US private equity houses Shamrock Capital Advisers and Kohlberg Kravis Roberts (KKR), which respectively led $70m and $275m funding rounds in FanDuel in 2014 and 2015 — forced the sale and said there wasn't enough money raised for minority shareholders to be paid.
However, the founders believe the company was significantly undervalued and that their shares are worth more than $120m.
The petition hinges on a ruling by the US Supreme Court — just nine days before the merger — which said US states were free to make their own sports gambling laws.
The founders claim this meant FanDuel should have been revalued.
The petition states: "The decision of the board (whose interests are aligned with preference shareholders), not to seek and act upon a new market valuation in the face of a material event, which is likely to have significantly increased the market valuation of FanDuel, is a breach of its fiduciary duties."
Yesterday a spokesperson for the Court of Session in Edinburgh said the petition against FanDuel was filed on July 9 and a 'first order' granted on July 11 — a legal process in which a judge allows papers served on FanDuel.
FanDuel has until the end of this month to lodge answers to the petition.
In a statement FanDuel said the petition was "not rooted in facts or reality".
"In preparation for this deal, an exhaustive process was undertaken with the anticipation of PASPA's (Professional and Amateur Sports Protection Act) likely repeal," the company said.
"The deal was consummated consistent with the corporate governance rules and cap table established under the former founders' leadership.
"The facts are that this was a sound business transaction that achieved the highest valuation possible for shareholders and was the right strategic move for the company's future."