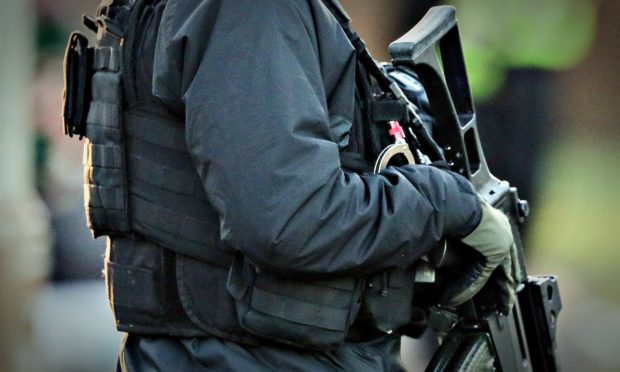 A heavy police presence sparked by a prank call in Dundee at the weekend could have had "tragic" consequences, it has been claimed.
Armed police raced to Hillbank Road amid claims someone was seen in a flat with a firearm.
The street, as well as a stretch of Dens Road between Arklay Street and Provost Road, was sealed off for several hours in the early hours of Saturday morning while officers combed the area.
However officers say the report was not genuine.
In response Scottish Conservative justice spokesman Liam Kerr has urged prank callers to think twice before wasting the time of emergency services.
A Police Scotland spokeswoman said: "At 8.50pm police were called by an anonymous member of the public that claimed they saw a man in a flat in Hillbank Road in possession of a firearm.
"Armed officers searched the area but no weapons were discovered.
"There were no further reports in the area and enquiries are continuing."
However, a police source also said the force was certain the call was a "malicious" one and that there was no firearm sighting.
They said: "Enquiries are ongoing, but we are certain this was not a genuine call.
"Everyone in the area was cooperative and nothing was recovered.
"We would not want to alarm people in the area unnecessarily, but given the nature of the call we had to take it seriously, hence the heavy police presence but we are pretty certain the call was malicious in nature."
Liam Kerr, Scottish Conservative justice spokesman and North East Scotland MSP, said: "Alarming calls of this kind will scramble all available resources from a wide area, including armed response officers.
"That leaves them unable to react to genuine incidents.
"If they were needed elsewhere during this false alarm, the consequences could have been tragic.
"Anyone considering wasting police time should bear that in mind."
Fire and ambulance services in Tayside have spent the equivalent of nearly a fortnight fielding hoax calls between 2015 and 2018.
Firefighters spent 246 hours, more than 10 days, responding to incidents in that time which turned out to be disingenuous.
The majority of those calls involved fire alarms being deliberately activated unnecessarily.
Prank calls appear to be less of a problem for the ambulance service, but Dundee staff still spent about 51 hours responding to hoax calls between 2015 and 2018.