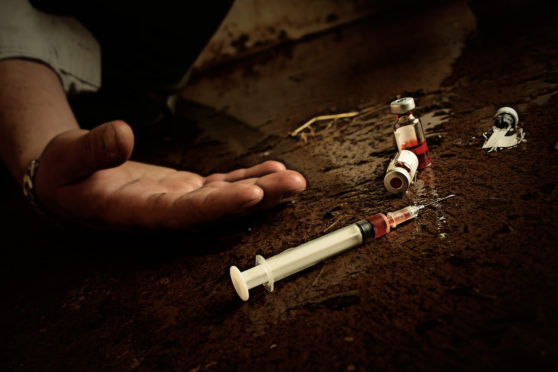 Dundee could become a "beacon of light" for drug death prevention across the country, a city expert has claimed.
Dave Barrie, service manager for substance misuse support organisation Addaction, was speaking as the Scottish Drug Deaths Task Force prepares to visit the city to hear about its strategies for dealing with the issue.
The task force will hold a meeting on Wednesday, when it will discuss the Dundee Drug Commission's recommendations for dealing with addiction and the response of the Dundee Alcohol and Drug Partnership (ADP).
Dundee City Council will also be asked to endorse the ADP's Action Plan for Change, a 10-step plan to improve the outcomes for people who seek help from addiction services, at its policy and resources committee meeting on Monday.
Among the recommended changes to practices are a 72-hour emergency response to non-fatal overdoses and same-day prescribing of opiate substitute therapies (OST) such as methadone.
Some of the measures have already been adopted with positive results in the city according to Mr Barrie.
He said: "There is absolutely no doubt that there are positive changes.
"I think the Drugs Commission has kicked off quite a lot of  energy so there definitely are signs of changes going on.
"Services are starting to work better together, people are getting treatment quicker and there is more joined-up working.
"Some people are getting treatment the next day, which is big for Dundee."
Mr Barrie added: "The spotlight remains on Dundee because it needs to be leading the way in turning the terrible tide of fatal overdoses.
"We can be a beacon of light for the rest of the country and I think that's why the Scottish Government and the task force are really interested what we're doing here.
"However, it won't happen overnight and there is still a lot to be done."
Figures provided by Police Scotland show at least 27 deaths have been officially confirmed as drug-related in Dundee up to November 11.
Another 33 cases have been recorded as "suspected" drug-related deaths, taking the potential total to date to 60.
A report due to go before the policy and resources committee says the action plan has a focus on Dundee, but it does not exist in isolation.
"There is an expectation that the lead officers and working groups identified within it will take an approach that is cognisant of best practice across Scotland and beyond, and supports innovation," it goes on.
"There will also be a need to consider in further detail how the work in Dundee links to and is supported by work at a national level, including the work of the National Task Force."
The Scottish Government was approached for comment regarding the upcoming task force meeting but did not do so.