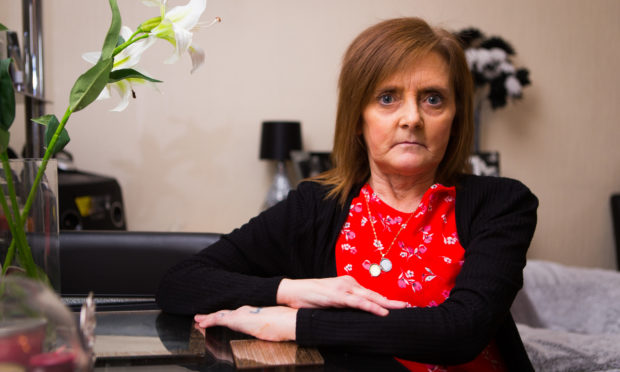 A Dundee mother has been "left broken" after police were cleared of blame for the death of her son in a cell, despite 15 hours of food and water deprivation.
Mark Hutton, 29, had been arrested for riding a motorbike erratically near Stobsmuir Ponds in the city on March 5 2016 and was under the influence of methadone, diazepam and Etizolam, also known as street Valium.
He was found dead in his cell the day after his arrest.
A fatal accident inquiry heard he should have been regularly checked during his time in custody but at least one scheduled check was missed, 25 minutes before he was found unresponsive.
A Fatal Accident Inquiry has ruled there were no precautions that could have been taken that could realistically have caused his death to be avoided.
Mr Hutton's mother, Mary Hillocks, believes Police Scotland failed in their duty of care towards her son.
She said: "I'm not happy. I want to take this further.
"For 15 hours they didn't give him any water, they didn't care for him."
Ms Hillocks was given the judgement between Christmas and New Year but said: "It's too heartbreaking to read. How can they not take any responsibility?
"They weren't doing their jobs right. I've no trust in the police.
"They left my laddie in that cell to die. He was just an ordinary Whitfield guy let down by police.
"I'm too frightened to cry. They've broken me as well."
Ms Hillocks, 54, said she wants to continue to fight for justice for her son.
She said: "I'm not just doing it for my laddie, I'm doing it for other people. There will be another death for another family. It's going to happen."
In a written judgement published on Friday, Sheriff Alastair Carmichael said it was "crucial" to note Mr Hutton's death had been ascertained as being drug-related, with a possibility of a contribution from an inherited cardiac abnormality.
He said: "On arrival at West Bell Street he was correctly assessed as being vulnerable and was correctly assessed as requiring half hourly checks.
"It seems more likely that the principal cause of death was the combined effects of Methadone, Diazepam and Etizolam, but that cannot be stated with certainty.
There is no evidence that can tell us whether Mr Hutton's death occurred after a period of coma, or whether his death was a sudden event."
Sheriff Carmichael noted police had failed to provide any food or drink to Mr Hutton during his time in the cells.
He said: "Over these 15 hours he was not provided with food or water.
"The [standard operating procedure] instruction that 'staff are to ensure that custodies receive sufficient water whilst in custody' was not complied with.
"It cannot be good for any person, in any condition, to go without some form of hydration for such a lengthy period of time. However, there is no firm evidence that Mr Hutton was dehydrated or that dehydration may have been a factor in his death.
"There is no evidence that leads me to conclude that this lack of food and water contributed towards Mr Hutton's death."
The sheriff also noted one check on Mr Hutton was missed by police but said he could not conclude this would have prevented his death.
He added there were a number of areas in which the standard operating procedures for the welfare of prisoners were not complied with and though none had contributed to Mr Hutton's death, "improvement in these areas" could prevent future deaths of prisoners under the influence of drugs.