Broughty Ferry police station ceiling caves in hours after resident Humza Yousaf dismisses criticism as 'hyperbole'
By
Scott Milne
January 23 2020, 8.30am
Updated: January 23 2020, 3.17pm
A ceiling in Broughty Ferry police station collapsed just hours after Humza Yousaf labelled criticisms of the force's buildings conditions  "hyperbole".
The justice secretary has been locked in a heated debate over the condition of stations and tried to shrug off accusations resources are not fit for purpose.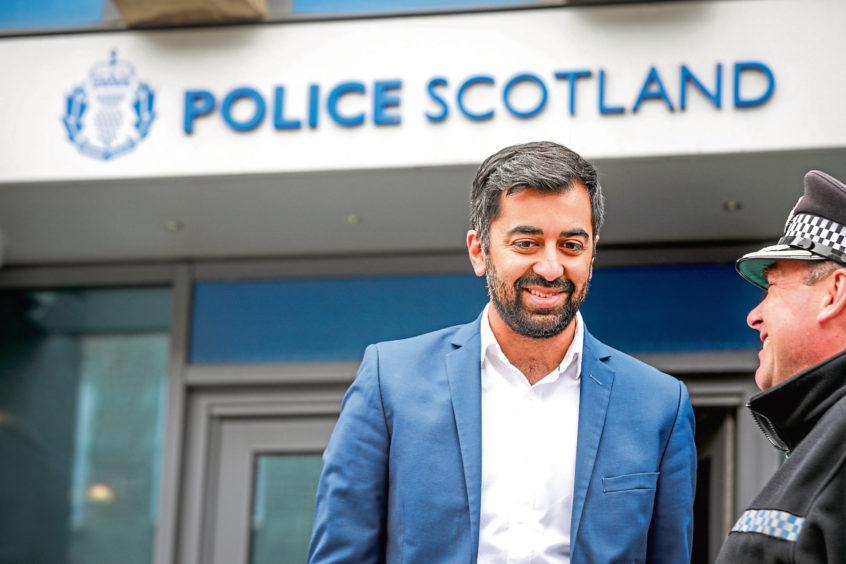 Further evidence for station deterioration came close to home for Mr Yousaf when a ceiling in Brook Street fell through on Tuesday evening. Mr Yousaf recently moved to Broughty Ferry.
Demands have been made for the Scottish Government to take action amid a claim from Police Scotland that some buildings are no longer fit for purpose.
The Courier this week reported on video of shoddy conditions inside a Perthshire police station. This is shown above this article.
VIDEO: Shocking footage shows shoddy conditions inside Perthshire police station
There are no visible signs of the damage from outside and the extent of the damage in Broughty Ferry is unknown but the station has been closed over health and safety fears.
A police spokeswoman confirmed it was an "operational" station prior to the incident.
Scottish Conservative shadow justice secretary Liam Kerr said: "Officers are somehow expected to fight crime while battling mould and vermin.
"The SNP were told the Police Scotland estate is falling apart.
"As if to emphasis that point, another office is in the public eye, this time at Broughty Ferry.
"Instead of addressing the force's concerns, the justice secretary dismissed them as 'hyperbole'. Politicians, the police service and wider public are agog.
"Just what will it take for the SNP to admit there is a problem, and fix it?"
Chief Superintendent Andrew Todd, Tayside divisional commander, said: "Around 5.15pm on January 21 the internal ceiling within Broughty Ferry police station collapsed.
"The building is not being used due to health and safety risks and won't be until a full assessment has been carried out.
"We have inherited a policing estate which has been built up over the course of several decades.
"Some buildings are no longer operationally fit for purpose, in the right place or designed in a way which allows us to work alongside partners.
"I am grateful to officers and staff who continue to work tirelessly in challenging conditions and I am committed to finding solutions that improve the environment from which we operate."
James Thomson, deputy secretary of the Scottish Police Federation's north area committee, said: "We have received reports of a ceiling that has collapsed in Broughty Ferry police station and are investigating further."
Police staff moved to the current station in 2018 from a base just metres away on Brook Street. The former base is now a beauty salon.
The Scottish Government has said they expect Police Scotland to keep on top of health and safety in stations.
The Courier asked for a response from justice secretary Humza Yousaf, but the government would only provide a statement from a spokeswoman.
The statement claims funding allocation decisions lie with Police Scotland chief constable Iain Livingstone and the Scottish Police Authority (SPA).
The spokeswoman said: "We expect Police Scotland to carry out the necessary health and safety at Broughty Ferry police station in a timely way and expect that they will continue to ensure that in all cases the focus will remain on a 'health and safety first' approach for all officers, staff and the public.
"The allocation of resources, including for the police estate, is for the chief constable and SPA to determine. We know that Police Scotland's Estate Strategy outlines their intention to reinvest £150 million worth of sales of assets back into Police Scotland buildings as part of a total £400 million investment.
"We are protecting Police Scotland's annual budget in real terms in every year of the current parliament, delivering a boost to more than £100 million by 2021, despite constraints on Scotland's public services through a decade of UK austerity.
"Now more than £1.2 billion, our funding for this year includes a 52% increase in the capital budget to allow essential investment in IT infrastructure and support mobile working to enable officers to access information remotely and spend more time in communities.
"We continue to press the UK government for a refund of the £125 million paid by Police Scotland in VAT between 2013 and 2018."