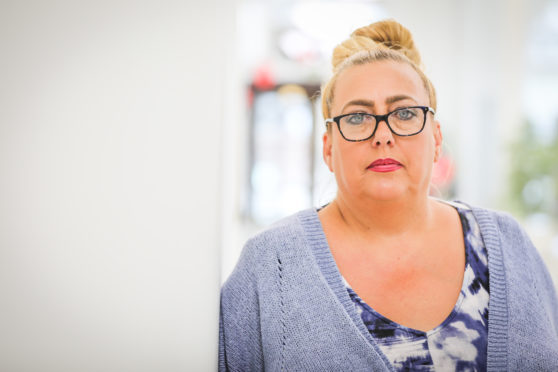 Five years to the day since she buried her son, Mandy McLaren warned NHS Tayside her campaign for better mental health treatment was far from over.
The Dundee grandmother was one of the leading voices in securing an independent inquiry into the provision of mental health services in Tayside.
Her son Dale Thompson took his own life after receiving treatment at Carseview. A review into his death later found "systems failures" had been a contributing factor.
Dr David Strang's long awaited report on the health authority's performance was finally released yesterday, on the fifth anniversary of Dale's funeral in February 2015.
NHS Tayside apologises to family for 'system failures' that contributed to death of father
Damning report calls for 'radical new approach' to Tayside mental health services
Speaking after reading the highly critical 133-page document, Ms McLaren said she could not forgive NHS Tayside for its part in her son's death.
"I am watching my granddaughter grow up without her dad because of them," she said.
"I want her to know that we fought for him and he fought for help, but he wasn't getting it.
"They killed my son. If they had done their jobs, he would still be alive.
"He was looking forward to the future. He went to them for help and they let him down. I blame them and will say that until the day I die."
COMMENT: Strang report lays out need for a complete mental health service rethink in Tayside
Ms McLaren said she was appalled that NHS Tayside had been allowed to run mental health services in an inadequate way for so long.
"Report after report has been done without anything being done," she said.
"There's a lot of blame and nobody is standing up and saying the buck stops here.
"I am not saying it's staff at fault, but it comes down the line.
"In all professions you get some who are good at their job and some who are bad, but in this kind of job it is costing lives and it can't continue."
She said she wanted a sign that NHS Tayside would follow through on Dr Strang's recommendations, after failing to take action in the past.
"They keep saying they will learn from mistakes, but they haven't implemented what they been told before," she said.
"Nothing has been done since the interim report was published last year. That's not reassuring."
Another campaigner, Phil Welsh said he was heartened by some of the recommendations in Dr Strang's report and hopeful that other families would be spared the heartache which he had suffered.
Phil's son Lee took his own life in 2017. He would have turned 30 next week.
Mr Welsh welcomed a suggestion that crisis provision should be available 24 hours a day – a measure which the Not In Vain For Lee campaign has called for.
Mr Welsh said: "The recommendations are really in line with what our campaign wants.
"It's also good to read there should be more help for university students and young people.
"But it's really important going forward that we get the support from local and national government.
"The recommendations need to be acted on."