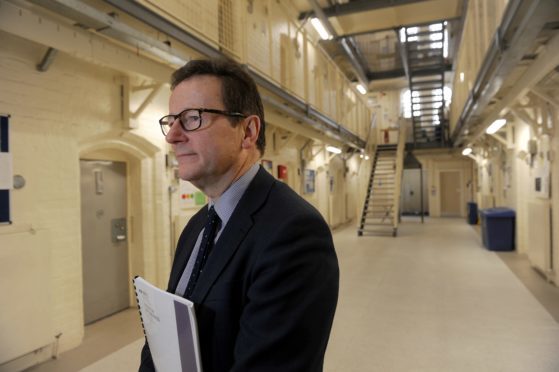 A radical redesign of mental health services across Tayside is needed to repair a "breakdown of trust".
A damning independent report into mental healthcare provided by NHS Tayside and its Integration Joint Boards (IJBs) has revealed a catalogue of problems with trust and support.
Its author Dr David Strang said: "A breakdown in trust and a loss of respect has undoubtedly led to poor service, treatment, patient care and outcomes."
Fifty recommendations were laid out following a 16-month investigation.
The report calls for a "fundamental redesign" based on a new culture of trust and respect and said the "most striking lack of governance" was the absence of a mental health strategy.
It also highlighted the need for improvements to referral systems, communication, and support for junior staff and an assurance that bullying "is not tolerated anywhere in mental health services in Tayside."
Dr Strang, a former prison inspector and chief constable of Lothian and Borders Police, launched the inquiry in September 2018 following campaigning by bereaved families.
The report, published on Wednesday, said: "The challenges facing mental health services in Tayside have not just arisen in recent years, they are of a long-standing nature.
"There is an urgent need for the development of a long-term strategic review of the requirements for mental health services across Tayside.
"The most striking failure of governance of mental health services in Tayside is the lack of a mental health strategy.
"There needs to be a strategy to deliver a whole system, radical, transformational redesign of mental health services."
COMMENT: Strang report lays out need for a complete mental health service rethink in Tayside
Dr Strang said the problems could not be fixed before a full review is carried out by NHS Tayside.
"Without a proper assessment, any changes can only be piecemeal and may not fit in with the longer-term plans," he said.
Evidence gathered during the probe showed a lack of trust and respect between patients, staff and management with the health board accused of being defensive and calling patients "problematic".
"It is clear there has been a breakdown of trust in many aspects of the provision of mental health services in Tayside," the report said.
"Whilst there are undoubtedly examples of good relationships which have led to positive outcomes for patients and staff, there have been too many instances of relationships across Tayside which have suffered as a result of a lack of trust.
"The independent inquiry team has received widespread evidence of a lack of respect in a range of relationships.
"Patients, families and carers have been described by some staff as troublesome, antagonistic, problematic and not to be trusted.
"A radical, new approach to restoring and building trust is urgently needed."
The report said Tayside had adopted a "defensive" position on too many occasions and that this had left the impression of wanting to protect its reputation at all costs.
"Frontline staff feel that the organisation is more interested in identifying who is to blame and attributing fault than genuinely learning in a supportive environment.
"There has been a breakdown in trust in Tayside, between organisations, partners, staff, patients, families, carers and communities.
"There is a real danger of a perception that NHS Tayside is more interested in protecting its reputation than looking after the interests of its patients."
Staff shortages were deemed a "major risk" to mental health services. The report warned junior doctors were vulnerable, while patients suffered inconsistency due to a reliance on locum staff.
Employees said their concerns were not listened to and there was evidence from one doctor, who said employees were "discouraged" from reporting staff shortages.
The report warned NHS Tayside had yet to make improvements that had been recommended previously and said there were no measures in place to force them to do so.
It said a review into mental health services had not been carried out, despite an interim report by the inquiry board published last year warning it was "urgently required".
"There appear to be no consequences for the board if they publicly accept such recommendations but do not proceed to implement them," the report said.
"When the independent inquiry interim report was published in May 2019, it emphasised the urgency of completing such a review. Seven months on, this work remains incomplete."
Commenting on the publication of the final report, Mental Health Minister Clare Haughey said Dr Strang  had highlighted several areas where NHS Tayside needs to take urgent action to significantly improve services.
"It is absolutely vital that people using mental health services, as well as those delivering these services, feel safe and know they will receive the right help, in the right place when they need it. I'm grateful that Dr Strang has agreed to undertake a progress update in February 2021 to ensure that the required improvements have been made," she said.
"The health board commissioned this independent inquiry in response to concerns about both the quality of, and access to, mental health services in Tayside and I have had assurances from the Tayside Collaborative Strategic Leadership Group, comprised of NHS Tayside, Angus Council, Dundee City Council, Perth & Kinross Council and Police Scotland Tayside Division, that immediate action will take place as a result of this report.  I hope that this action will help to restore trust in these services.
"The Scottish Government has already provided a package of support to NHS Tayside since Dr Strang's initial report was published in May 2019. Last week I announced further support for NHS Tayside which will address service provision, clinical practice, organisational development and community led services.
"The Scottish Government will monitor NHS Tayside's progress through the continuation of the NHS Tayside Oversight group and will continue to seek assurance that the required improvements are being implemented, working alongside COSLA to ensure health boards, local authorities and health and social care partnerships are supported to work together across Scotland to build on the Strang report recommendations.
"In order to establish a national approach to the quality and safety of mental health services and ensure that the themes and concerns identified within the Tayside Independent Inquiry are not present elsewhere in Scotland, the first meeting of the new Quality & Safety Board will be held later this month. I am looking forward to chairing this meeting which Dr Strang will be attending. This will act as an appropriate platform to share the learning from the report with other partners."
NHS Tayside chairwoman Lorna Birse-Stewart said the board welcomed the recommendations "as an opportunity to embrace a fresh approach to the design and delivery of mental health services across Tayside".
Thanking Dr Strang for his work and everyone who contributed to the review, she said: "It is important that those living with mental ill health, their families and carers, and our staff, know that the underpinning themes of the Inquiry report – Trust and Respect – will run through every aspect of our future plans, which will be developed in partnership with our Integration Joint Boards in Angus, Dundee and Perth & Kinross and all stakeholders.
"The involvement of staff, users of our mental health services, communities and partner organisations is critical to build on the improvement work which is already under way in mental health services. The Board of NHS Tayside is making a clear commitment today to ensure better engagement with all stakeholders in helping shape the delivery of mental health services.
"The Independent Inquiry team say in the report that they were impressed with the many committed staff who were delivering positive outcomes for those using our mental health services. This is important recognition for our workforce who are delivering care, treatment and support to patients, service users, their families and carers every day. The Board of NHS Tayside also acknowledges the dedication and hard work of staff, both in our community teams and in our hospitals."
Grant Archibald, Chief Executive, NHS Tayside said: "The publication of today's report delivers a challenging set of recommendations for mental health services across Tayside, which are based on the lived experiences of a wide range of people and extensive evidence provided to the Inquiry team.
"Dr David Strang has stated that the report provides an opportunity for Tayside to develop world class mental health services, where the population are served with commitment and passion. That is the spirit in which we receive the report today and we are determined to make the significant changes needed to deliver on this opportunity and rebuild confidence in services."
The NHS Tayside board will consider the findings at its public meeting on February 27.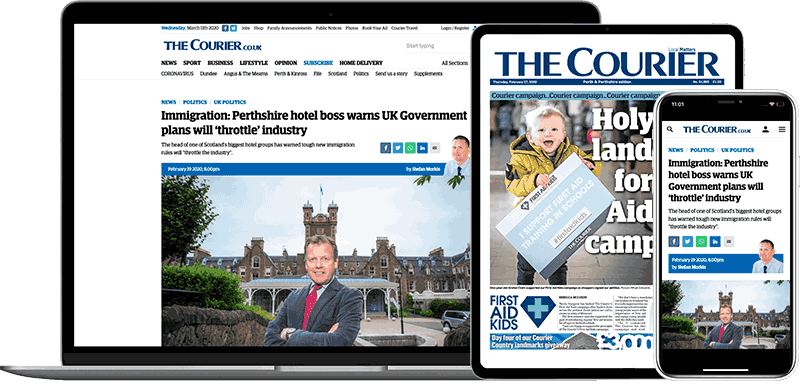 Help support quality local journalism … become a digital subscriber to The Courier
For as little as £5.99 a month you can access all of our content, including Premium articles.
Subscribe