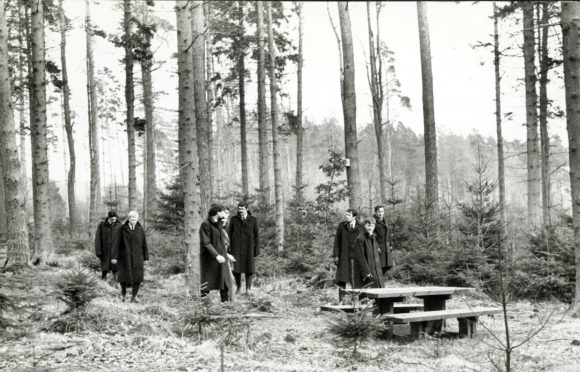 Police will not shine fresh light on one of Dundee's most notorious unsolved murders to mark 40 years since the killing.
Elizabeth McCabe's partially clothed body was found in undergrowth in Templeton Woods on February 26 1980 but there is no plan to re-investigate the case or ask the public for information that could lead police to those responsible.
The original investigation in 1980 was undermined by a litany of blunders by investigating officers, from mishandling of crucial evidence to alleged Life on Mars-style witness intimidation.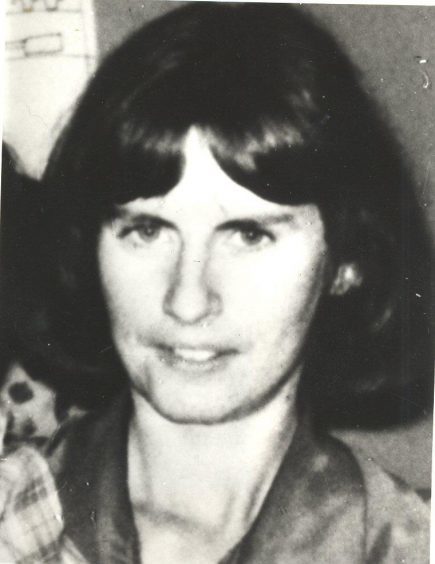 As they became increasingly desperate to catch the killer, officers even turned to the spirit world for guidance where a medium provided information at a seance.
A Police Scotland spokeswoman said: "We understand that losing a loved one in any circumstances, particularly where a crime has taken place, is extremely distressing and we can provide reassurance that any new information which is received will be investigated thoroughly.
"All cold cases are regularly reviewed, in conjunction with the Crown Office and Procurator Fiscal Service."
The oldest of Jim and Ann McCabe's four children – three daughters and a son – Miss McCabe found a new passion for socialising when she started going to college.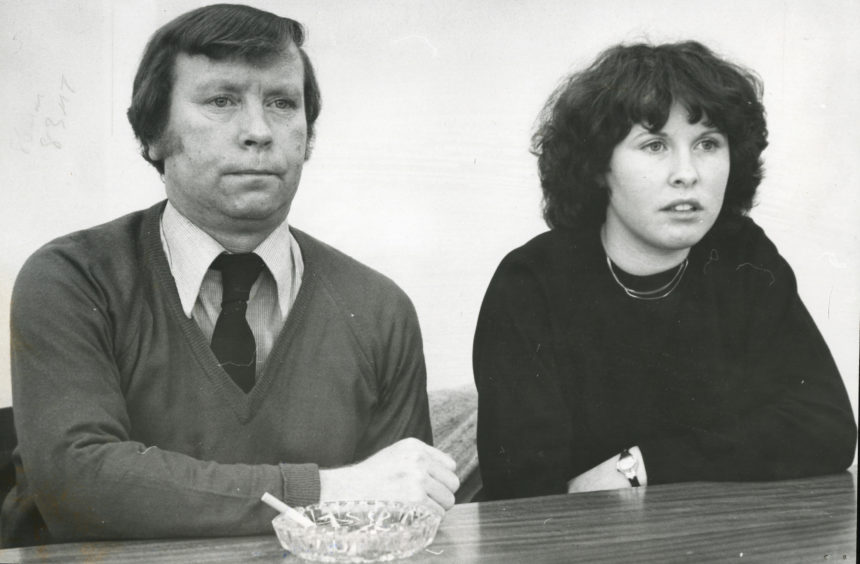 The trainee nursery nurse left the city's Lyndhurst Avenue for a night out with friend Sandra Niven in Dundee.
The pair visited several city centre bars before heading to Teazer's nightclub on Union Street.
She left the club at 12.30am, apparently alone, but never arrived at home.
Fifteen days later, on the day before she would have celebrated her 21st birthday, her partially-clothed body was found strangled in Templeton Woods.
The spot where Miss McCabe lay was only 150 yards from where the naked body of another young Dundee girl had been found 11 months earlier.
Like Miss McCabe, Carol Lannen, who had also been last seen in the centre of the city, had been strangled.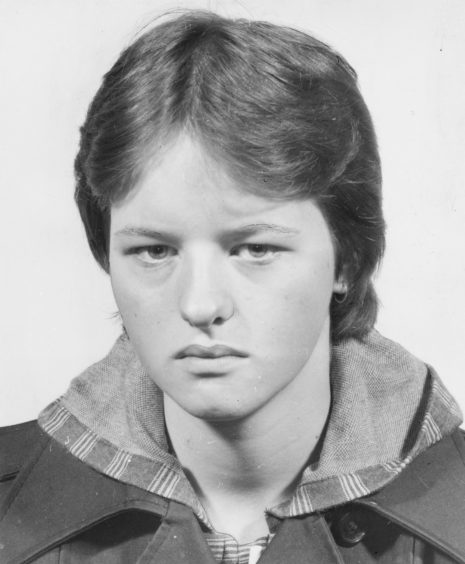 The haunting similarities between the cases were not lost on uneasy residents who began to fear that the "disco killer" would strike again.
Many girls shunned the city's nightspots.
More than 7,000 people were interviewed and police visited every hotel, bed and breakfast, and boarding house in the city.
Days of sitting at home, waiting for word, became too much for Miss McCabe's father Jim, who walked around the city centre, visiting her favourite spots, in the hope of finding some clue to his daughter's whereabouts.
Feelings were running so high in the city that a "bounty fund" started by a local councillor soon swelled to £5,000, but it failed to produce a significant lead and the money was eventually repaid.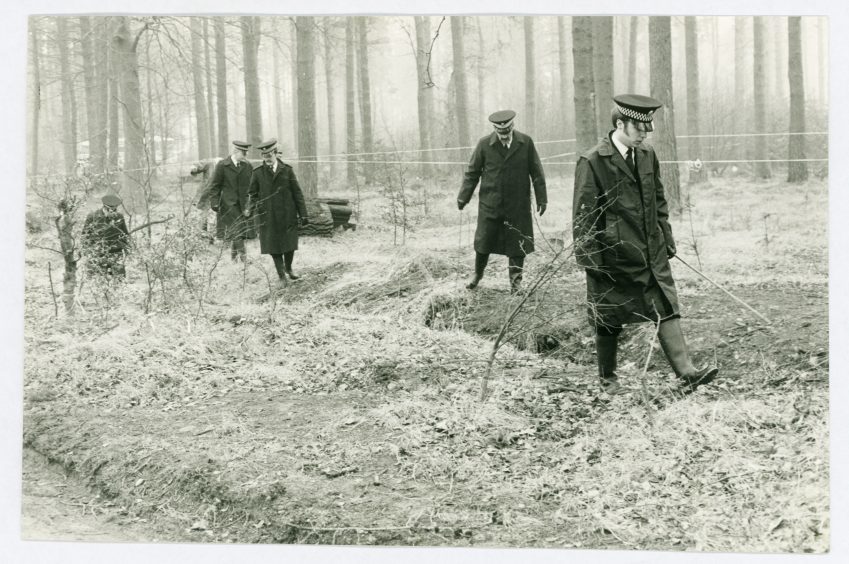 Despite the biggest investigation ever mounted by local police, no one was ever arrested for either of the Dundee murders.
The man who led the investigation said there were so many similarities that they had to consider the possibility there was a serial killer on the loose.
"I have an open mind about who killed Carol and Elizabeth," said the retired Detective Chief Superintendent Jim Cameron.
"We interviewed thousands of people and could have interviewed the killer,
"I don't honestly know.
"He simply slipped the net."
Former Angus taxi driver Vincent Simpson was cleared of the murder of Miss McCabe at Edinburgh High Court in 2007 after a jury returned a not guilty verdict.
Jurors during the seven-week trial were told of a litany of missing evidence, including samples taken from the deceased, her tights and pants, which might be deemed significant items.
Incredibly, a bank bag thought to contain forensic evidence was found in a box relating to the murder of Carol Lannen.
Bible John, the Yorkshire Ripper and the Zodiac Killer
Sixteen years after nursery nurse Miss McCabe's murder, Tayside Police instructed a review of both deaths following the reopening of the Bible John case in Glasgow.
The murders were also included in a secret investigation into six possible Yorkshire Ripper attacks in Scotland by then West Yorkshire Police Chief Constable Keith Hellawell.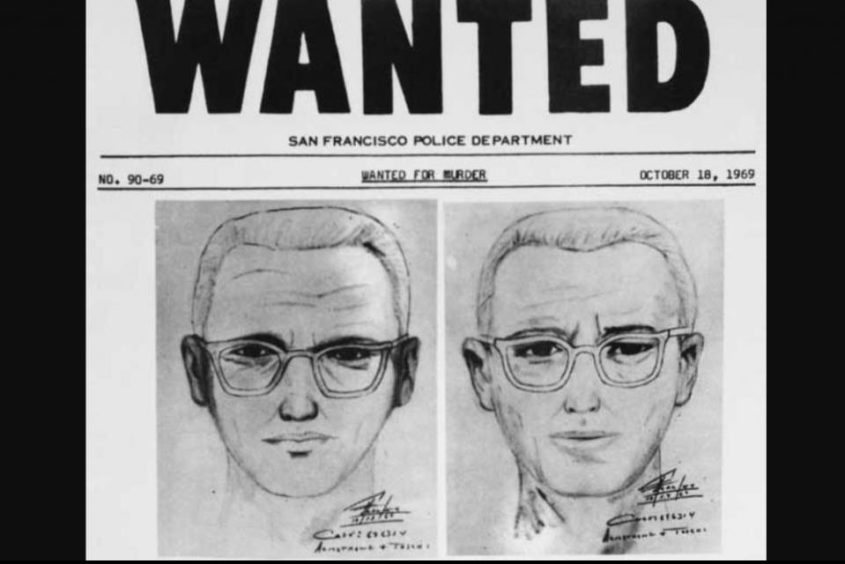 Hellawell linked Peter Sutcliffe to the Dundee deaths and the murders of Anna Kenny, 20; Hilda McAuley, 36; and Agnes Cooney, 23; who were all killed in separate incidents in Glasgow in 1977.
Also linked were the double murders, known as the World's End murders, of friends Helen Scott and Christine Eadie, who were last seen leaving the World's End pub in Edinburgh on October 15 1977.
In 2004, Scottish launched Operation Trinity, a review of the 1977 murders and Angus Sinclair was eventually convicted of the World's End murders and jailed for 37 years in 2014 following a retrial.
Detectives in the cold case review still believe Sinclair killed Miss Kenny, Miss McAuley and Miss Cooney after nights out in Glasgow in 1977.
The man responsible for the infamous Zodiac slayings which terrorised Northern California from 1968-74 was also linked to the murder of Miss Lannen after a dossier of evidence was given to Tayside Police in 2005.
The dossier stated the killer had fled to Scotland and said the "Zodiac's last act" was the murder of Miss Lannen but the theory was eventually quashed by investigators in California.
TIMELINE
February 10, 1980: Trainee nursery nurse Elizabeth McCabe (20) leaves Lyndhurst Avenue home for night out. Pair visited several city centre bars before heading to Teazers, Union Street.
February 11, 1980: Elizabeth McCabe reported missing by her parents.
February 26, 1980: Elizabeth McCabe's partially clothed body found in undergrowth in Templeton Woods.
Mid to Late February 1980: Clothing belonging to Elizabeth McCabe found at Coupar Angus Road, near the Kingsway.
March 2, 1980: Taxi driver Vincent Simpson first interviewed in relation to Elizabeth McCabe murder inquiry.
March 11, 1980: Elizabeth McCabe's clothing sent for forensic analysis.  Semen found on vaginal swab taken from deceased.
March 13, 1980: Seance held with Tayside Police officers to determine what had happened to McCabe.
April 2, 1980: Jewellery and photo belonging to Elizabeth McCabe found in Cobden Street. Shoes found in same location some weeks later.
1980: After months of exhaustive inquiries, police fail to find killer but case file is left open.
1996: Tayside Police instruct review of Templeton Woods deaths of Elizabeth McCabe and Carol Lannen following reopening of Bible John case in Glasgow.
1998: A second review is under-taken into unsolved deaths at Templeton Woods by Tayside Police.
2004: Case reopened by Tayside Police. Items of evidence sent for DNA analysis at Yorkshire-based lab.
July 2005: Tayside Police officers visit Vincent Simpson at home in Camberley, Surrey. He is detained and cautioned.
July 19, 2005: Simpson appears at Dundee Sheriff Court for first time in connection with death.
October 22, 2007: High Court trial of Vincent Simpson begins before Lord Kinclaven at Edinburgh.
December 13, 2007: Jury returns majority not guilty verdict after seven-week trial. Simpson goes free.