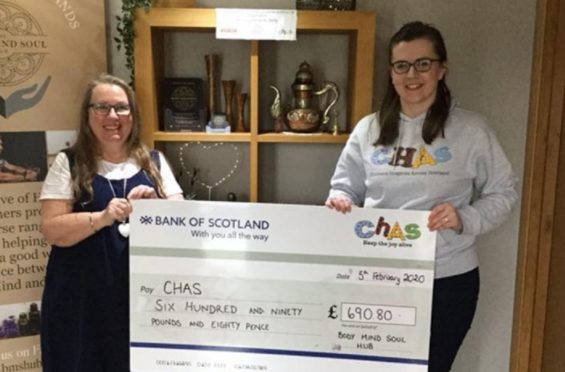 An Angus wellness centre founder and cancer survivor has delivered the latest support for CHAS in an enduring journey across the continents.
Morna Milton-Webber runs the Body Mind Soul Hub from her home in Monikie. Through a recent fundraising drive, she has shared a four-figure sum between CHAS and the Women in Need organisation, which provides support to women in India suffering from HIV, leprosy and mental health illnesses.
Morna was born in Dundee but grew up in Kerala in India and the Children's Hospices Across Scotland link stretches back many years as a result of a brush with potential tragedy for herself and husband, Pete.
She said: "CHAS holds a special place in my heart because when my son Ruairidh was just three years old he became very ill with breathing difficulties and almost died.
"It was a long time ago and Ruairidh, who is 21 now, went on to make a full recovery but I still remember that time like it was yesterday.
"The ambulance drive to the hospital, being taken to the intensive care unit, being told by doctors there was a good chance he was not going to make it, the constant worry and heartache and the feelings of fear and sheer helplessness.
"I know this is something that CHAS families across Scotland have to face each day and by fundraising I just hope that I am in some small way helping them to make beautiful memories with each other that they can cherish forever."
Morna has supported CHAS since 2007 when she and her family raised £2,000 following a sponsored drive across India in an old Rolls Royce.
Her not-for-profit organisation recently celebrated its first-year anniversary and alongside the charity donations totalling £1,400, has also launched a pay-it-forward style programme to help the area's unsung care heroes.
The centre was set up to promote and develop a greater understanding towards a healthier lifestyle through holistic wellness treatments, offering therapies including massage, counselling, physiotherapy, yoga, Pilates, reflexology, crystal healing and reiki.
Morna said the new kindness initiative is encouraging local businesses to donate £50 to help fund treatments for carers in the community.
"The aim is to get 12 businesses to sign up throughout 2020 to fund the treatments of 12 different carers.
"Nine businesses have signed up already which is incredibly humbling."
CHAS community fundraiser Emma Moore said: "We currently support over 450 families through our hospices, expanding hospital services and growing CHAS at home teams and are committed to making sure that no matter how little time families have together, it is packed full of joy and precious memories."