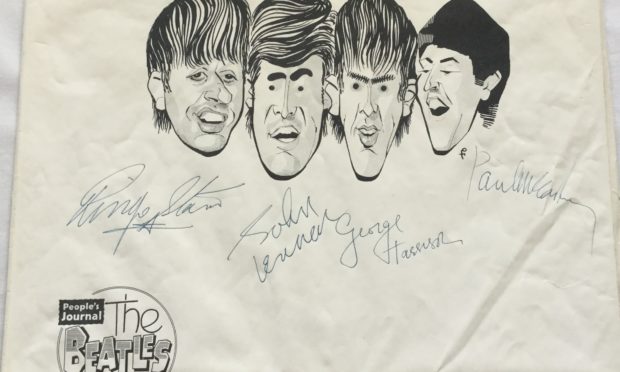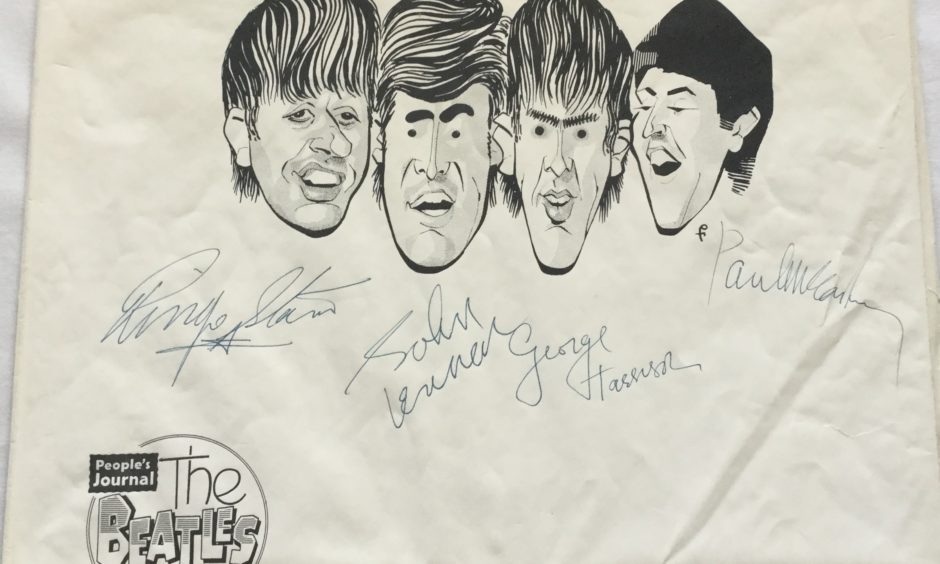 Excitement is building around a 'spine-tingling' piece of Beatlemania from the Fab Four's sensational 1964 show on the stage of Dundee's Caird Hall.
Rare autographed caricatures of John, Paul, George and Ringo have emerged in an online auction and bidding has rocketed up the money charts to sit at £5,500 – with hopes the final price might hit five-figures when the hammer comes down in just under a fortnight.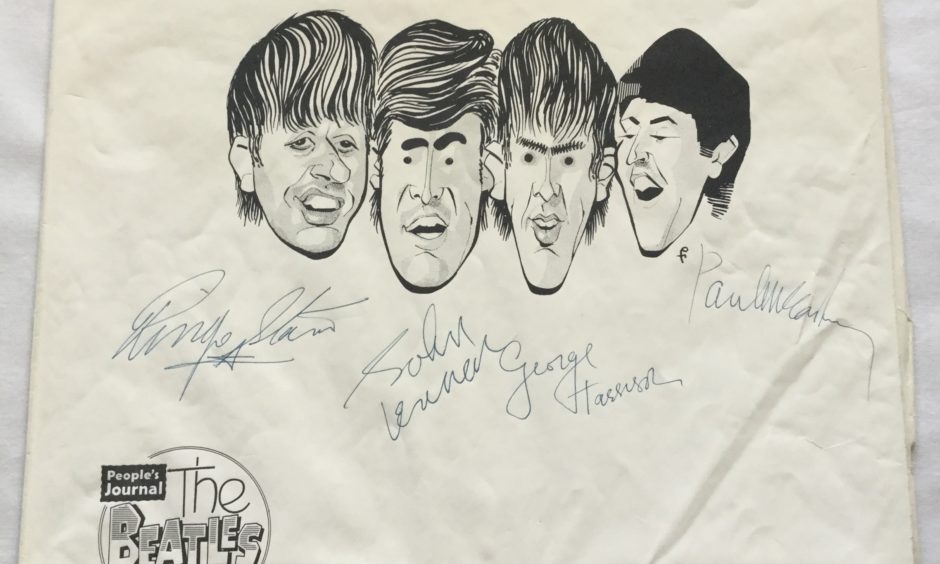 The online auction's star lot is one of 20 caricature portraits of the Liverpool group which were believed to have been offered as prizes in a competition run by the People's Journal for the band's Caird Hall gig on October 7 1963.
The D C Thomson artist who penned the piece is pictured in a photograph with the Fab Four, and the rare items also includes a shot of Paul McCartney putting his signature to one of the pieces.
Dan Wade, the manager of Paul Fraser Collectibles who are auctioning the lot through the Invaluable website described the piece as "Beatles gold".
"This is spine-tingling Beatles memorabilia," he said.
"It's one of the best Beatles autographs I've handled.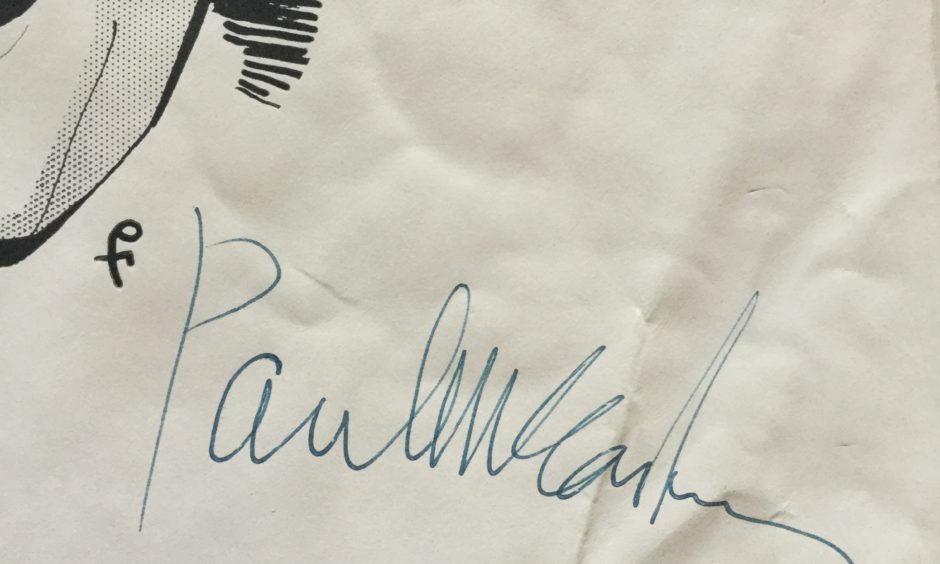 "The signatures are huge. The caricature smacks you between the eyes. It's got photo provenance. And the date – October 1963 – means the band signed this in the midst of Beatlemania: that's so important for collectors.
"The Beatles only signed 20 of these, far less will have survived. I wonder if any are lurking in Dundee lofts?" Dan added.
He also hopes the already global interest in the item and its Courier country connection will unearth the story of the artist.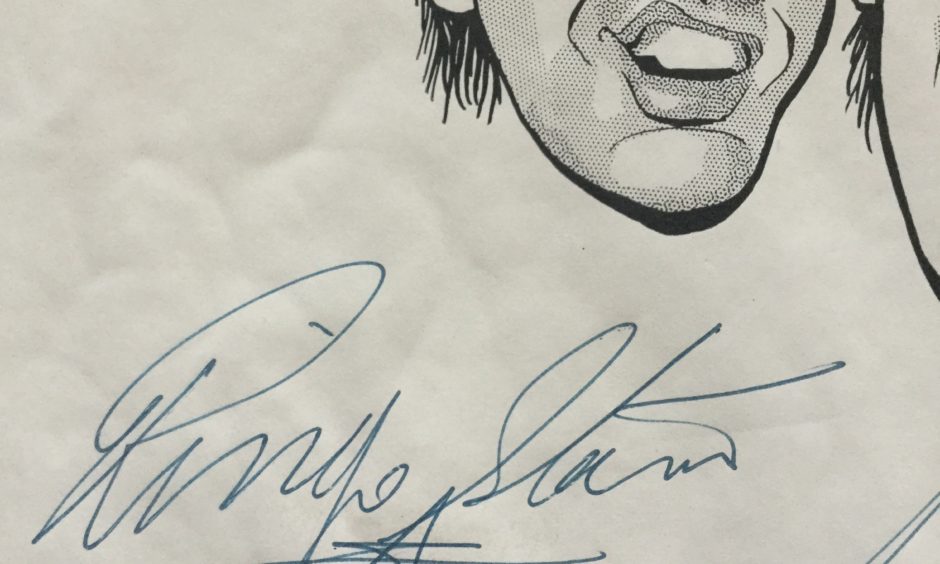 The 1963 gig was one of two Dundee visits by the band in their heyday, and the final night of a mini Scottish tour.
They played two half-hour sets to the screaming Caird Hall crowd, blasting out hits including Twist and Shout and I Saw Her Standing There.
Also on the bill that night were Johnny Hudson and the Hi Four, Malcolm Clarke and the Crestas, the Caravelles and Tommy Dene and the Tremors.
The term Beatlemania is believed to have been coined in Dundee after local promoter Andy Lothian was asked to describe the reaction to their Caird Hall appearance.
A year later, the group returned to another rapturous reception at the same venue.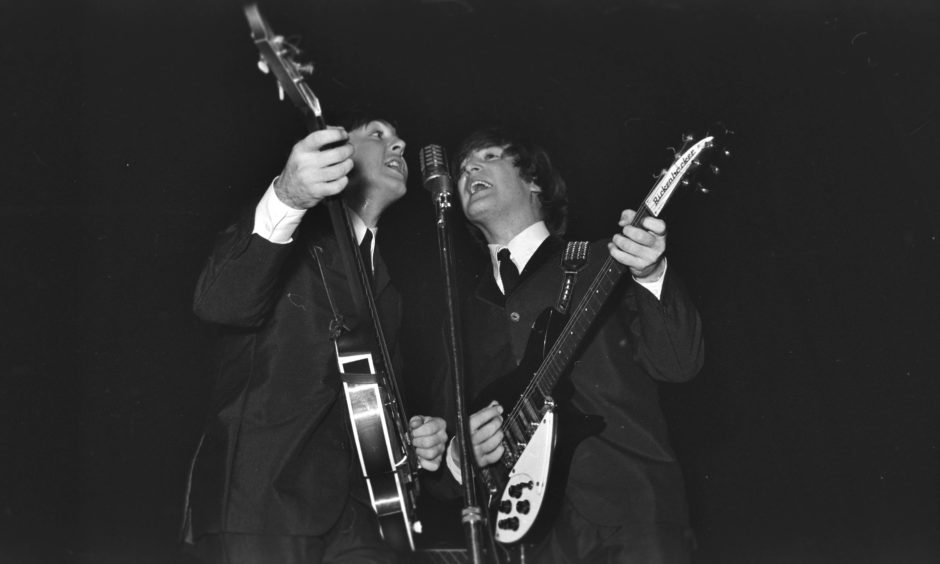 The adoring fans were so determined to catch up with their idols that the band had to be smuggled out of the Caird Hall before heading off to a hotel at St Fillans on the shore of Loch Earn in Perthshire after the 1964 concert.
In 2018, rare images of the 1964 show went on display in Dundee for the first time after being bought by the McManus.
The online auction features another rare piece with a firm Dundee connection – the autographs of former city MP and UK Prime Minister and his wife, Clementine, which is forecast to fetch as much as £1,500.