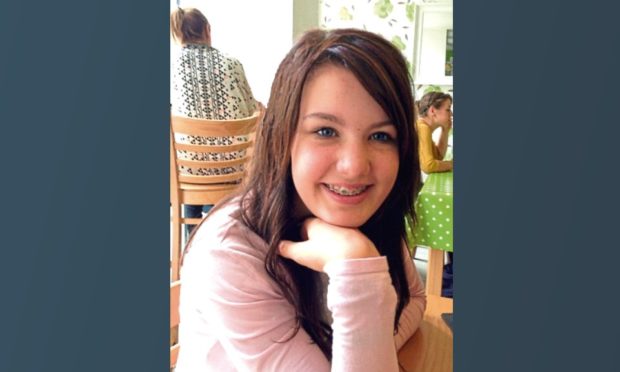 A renowned psychologist has said not enough weight was given to the views of family and teachers prior to the tragic suicide of Tayside teenager Sophie Parkinson.
Dr John Marshall yesterday told a fatal accident inquiry (FAI) he believes there was a "high likelihood" she would complete suicide and said multi-agency involvement could have saved her life.
The bright 13-year-old Dundee High School pupil died in March 2014 at her home in Liff on the outskirts of Dundee.
Giving evidence at Dundee Sheriff Court, Dr Marshall, head of psychological services at the State Hospital, Carstairs, said: "For me, there was not a systematic risk assessment.
"It relied heavily on what Sophie was telling them rather than what, for instance, the school or her family were saying.
"It was not a rounded picture of risk with input from other agencies such as the police.
"If a multi-agency risk assessment was in place it could have galvanised efforts. The tragic outcome could have been averted given this logical model."
He also questioned the "veracity" of doctor's notes from NHS Tayside's Child and Adolescent Mental Health Services suggesting Ms Parkinson's mental health was improving two months before her death.
Dr Marshall, who previously assessed six-year-old Alesha MacPhail's killer Aaron Campbell, said: "There is evidence that she told CAMHS what they wanted to hear."
The inquiry previously heard Ms Parkinson had attempted suicide on two previous occasions.
Her mum Sophie Moss had raised the alarm various times.
An expert psychiatrist however said, like those treating her, he would also deem Ms Parkinson as low risk at the time.
Dr Mischa Mockett, who specialises in child and adolescent psychiatry, told the court: "There is that slight possibility her death could have been avoided if absolutely everything was in place but it's never that easy.
"It can't be predicted. People are always going to complete suicide and we can't protect against that."
The pair, alongside expert psychiatrist Dr Aileen Blower, were giving evidence to the inquiry at the same time.
Questions were put to them on the Liff teenager's diagnosis, the decision not to admit her to hospital, and the involvement in her treatment of her mum and Dundee High School staff.
The inquiry also previously heard evidence from Ms Parkinson's CAMHS trainee psychiatrist Dr Luke McQuitty, and his supervisor Dr Johnny Graham.
Dr Graham said Dr McQuitty's decision not to admit her to a specialist mental health facility after a concerning incident at school was "correct" and said in-patient care may have been detrimental to her health.
Responding to questions by Crown Office fiscal depute Steven Quither, Dr Blower said the case showed gaps in the multi-agency approach to mental health care.
"The family were asking for respite — that's a big ask for a family that is very self-sufficient," she said.
"Something was seriously wrong but the problem is we don't know what."
The three witnesses signed a joint minute stating that, "on the balance of probabilities", Ms Parkinson's death "may have been avoided" if there was greater family therapies available, as well as greater risk assessment and social work support.
All evidence has now been heard in the FAI and it will conclude on August 20.