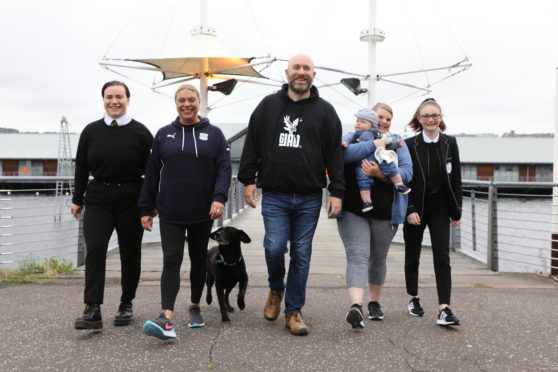 Three generations of women are taking on a mammoth walking challenge to raise awareness of men's mental health issues.
A group of seven females, aged from eight to 73, will embark on a 51-mile expedition this weekend, walking between two bridges which have been the scene of suicides.
Val Lindsay, along with family and friends, decided to take up the challenge of trekking between the Tay Bridge and the Queensferry Crossing after taking up walking during lockdown.
The family was inspired by friend Ritchie Peter-Tennant, who set up the Walk and Talk men's support events in Dundee and Angus.
Val, 49, from Broughty Ferry, said: "My friend broke her wrist just before lockdown and she had a new baby so she had to move in with me for help. We had loads of free time so we just started walking everywhere.
"As lockdown restrictions eased more people got involved. My niece joined us then my mum, then two friends.
"We were challenging each other to go further every week so we've walked to Carnoustie, then Perth and St Andrews.
"My mum, who is 73, said 'let's walk to Edinburgh' as a joke but we didn't know she was joking and agreed to it."
They later decided to end the walk at the Queensferry Crossing in keeping with their hope to raise awareness of suicide prevention.
The group, who will set off on the 18-hour trip at 8pm on Saturday, is made up of Val, her friend Chez Lesley from Newport, mum Janet Roberts, nieces April Roberts, 17, and Lucie Jones, eight, as well as sister-in-law Louise Walker, 29 from Aberdeen and 17-year-old Brodie Hamill.
Ritchie will join the team for part of the walk but otherwise, the only males will be Chez's seven-month old son, Lucas, and 15-year-old Labrador, Skip.
They have already received more than £500 in donations. The first £500 will be given to men's mental health charity Andy's Man Club, with the rest to be donated to Dundee Football Club in the Community Trust for their support work.
Val said: "The money is secondary, what we want to do more is raise awareness.
"The bridge to bridge idea was important to us because bridges claim so many lives every year and the whole point is to raise awareness of mental health issues.
"We're a bit apprehensive about it but we're excited.
"It's a really surreal feeling cause on one hand I'm thinking 'oh my god what have we done' and on the other I'm thinking 'this is going to be amazing for raising awareness'."
Donations can be made at www.gofundme.com/f/bridge-2-bridge-for-andys-man-club-dundee
Support is available 24/7 by calling Samaritans on 116 123.