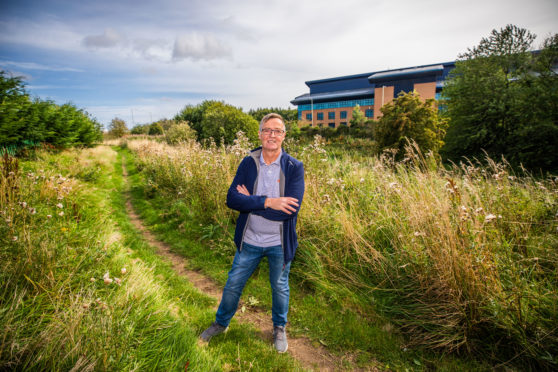 Residents in a new Dundee housing estate say they are being left with no option but to drive everywhere in a failure of the council's green plan.
The Western Gateway Community, on the border of Perthshire and Dundee, say a pedestrian link to nearby shops is crucial for safety and to limit air pollution.
The development currently consists of around 500 properties but this could more than double within five years.
It is hoped funding can be found to create a clear footpath at the end of Den Head of Gray Road to link homes with a bus stop and shops at West Gourdie Industrial Estate.
Head of the community group Bill Batchelor said the muddy path is currently the only safe route, in or out, on foot.
"They talk the talk about being environmentally friendly but don't walk the walk," he said.
"They should be starting at the bottom by making sure areas like this can walk or cycle to other parts of the city.
"The people who live here drive everywhere. The path isn't suitable for everyone and it can get really muddy."
Three sources of funding are being considered for the upgrade through Paths for All, Sustrans' Spaces For People, and Dundee City Council.
The community group has been at loggerheads with the local authority on various issues since it was set up.
Locals have been demanding an upgrade to the entrance to the estate at the Swallow Roundabout amid fears of a serious accident.
Those who bought houses also believed a primary school would be built much more quickly after each new homeowner was made to contribute £4680.
Mr Batchelor said: "It's like banging our heads off a brick wall to get anything done here.
"It's ridiculous. Most things you expect in a new development haven't been put in place."
A spokesperson for Dundee City Council said: "We are working closely with the community to try to achieve a solution that helps them.
"During every phase of work at Western Gateway there has been consultation with residents and other interested parties and any development is carried out in line with the council's existing planning frameworks and guidelines."