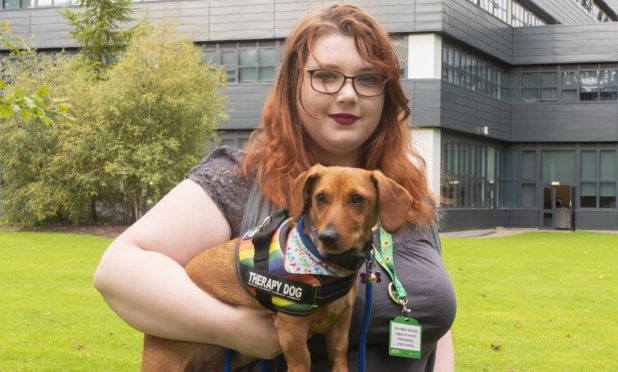 Students at a Tayside school and college have been enjoying the presence of Dachshund therapy dogs provided by a local dog trainer.
The Ranch, an Angus-based holistic health charity run by Jessie Probst, has been busy over lockdown providing trained dogs to isolated and vulnerable individuals, many of whom have gone on to adopt their companions.
A few of these dogs have advanced to therapy and assistance work. One of these is four-year-old Belly, who has has become Dundee and Angus College's first autistic assistance dog with her new guardian, first-year art and design student Isla Gray, 16.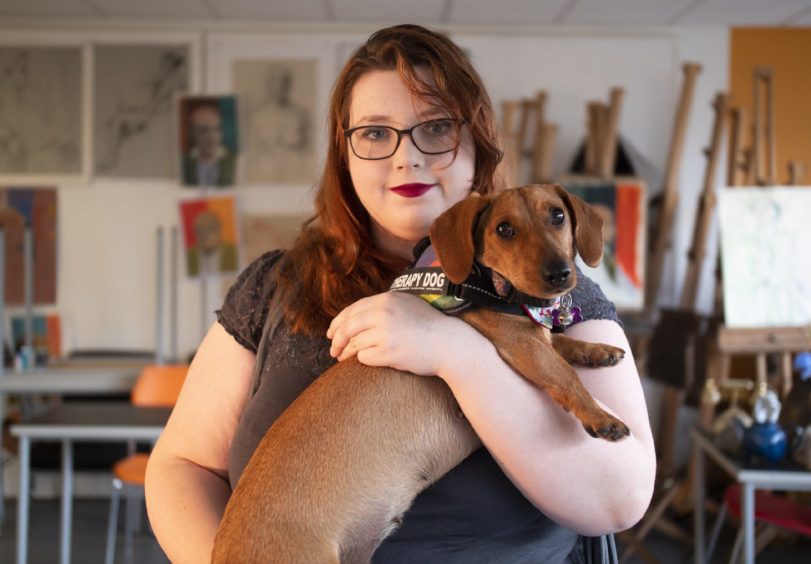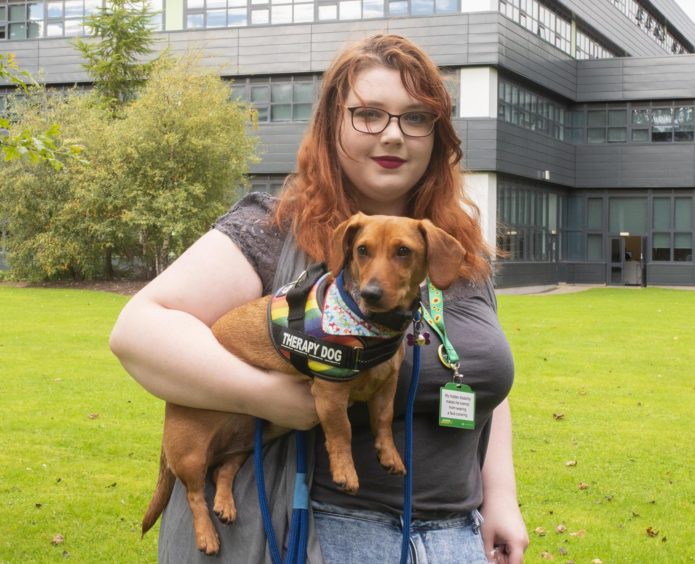 Isla, who lives in Dundee, said: "With a therapy dog there's a strong personal connection you feel when you're around them and they're around you. When you just know you fit together.
"There's a feeling of joy and serenity you have when caring for a dog that's hard to find anywhere else. Having her in my life has improved my confidence and anxiety incredibly. I love her to bits."
PICTURES: Scotland's first Dachshund dog training class begins in Dundee
Therapy dogs at the college are not completely new. For the past two years it has had six therapy dogs at its January refreshers events.
A spokeswoman said: "They have been the biggest draw each year with many students choosing to spend time with them, whether it's playing, chatting to their owners or just finding comfort from sitting quietly together."
Isla also has Belly at home, as she helps her in all areas of her life.
Isla added: "At college she's very much in work mode. She's there to help me and she knows that. Through training she has learned how to behave in various environments and to focus, with the distraction of busy human life.
"The bond between Belly and I is strong, there's a reason dogs are 'man's best friend.' I will definitely keep her."
Another of the trained therapy Dachshunds is Bandit, an 18-month-old Dachshund 'working' full days at Blairgowrie High School.
Teacher Nicky Macfarlane said: "He has been coming to an S1 and 2 class in the Enhanced Provision at Blairgowrie High for about six weeks now and is doing a grand job.
"There are nine pupils in the class, all of whom enjoy his company, benefit from learning about how to care for him and gain confidence from his interest in them. He doesn't disrupt, he brings joy, companionship, confidence and genuine learning opportunities.
"When he comes in in the morning, he knows where he is going and struts to work proudly. When he spots 'his' people, his enthusiasm to greet them is uplifting and makes folk feel valuable.
"He is very well looked after by all the pupils and enjoys the exercise and attention he gets, as well as a long snooze in his bed under a desk."
Jessica, who also runs dog training and behaviour classes at Dundee & Beyond Dog Trainer, says she put together a special breeding programme to further the Dachshund breed and create healthier and more robust individuals.