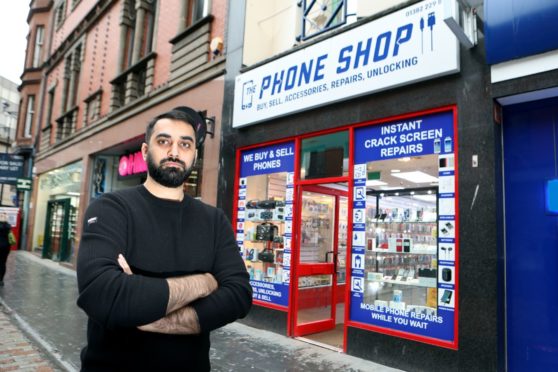 A Dundee businessman has been the victim of an elaborate identity fraud.
Con-artists have targeted Hammad Hussain, owner of The Phone Shop in the city's Murraygate.
They have used the 34-year-old's personal and business details to create a fake firm selling computers and mobile phones.
Victims from across the UK have bought goods from the fake seller, with the scam only coming to light when angry victims contacted Mr Hussain in Dundee after failing to receive their goods.
He is damaging me, my business, my company name and he is stressing me out."  Hammad Hussain
The con-artists have been working with a fake social media profile of a high street phone and electronics shop with same trading name as Mr Hussain's legitimate business.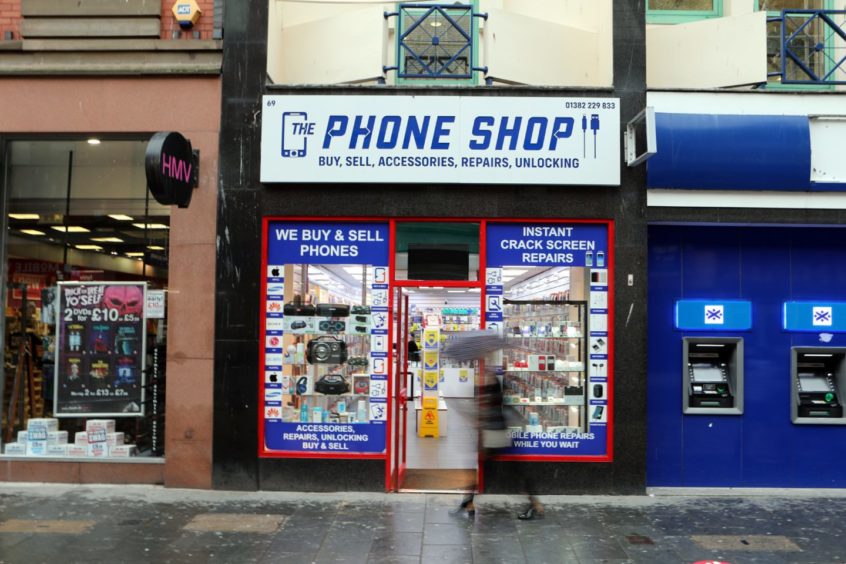 The perpetrators have gone as far as hiring people under Mr Hussain's stolen business identity, leaving these victims chasing the him for unpaid wages.
Mr Hussain said: "I am frustrated because he [the con-artist] is damaging me, my business, my company name and he is stressing me out."
'One woman phoned me crying'
The Courier has seen social media messages between the con-artist and victims of the scam after Mr Hussain began collecting evidence from victims.
Those behind the scam ask their targets to visit Mr Hussain's shop at 69 Murraygate to pick up the goods, or wait to receive them by post.
When challenged, the fake firm has sent links to Mr Hussain's company details on an official government website.
Mr Hussain, who only took over the business after moving to Dundee around a year ago, said he is sometimes fielding four calls a day from victims chasing goods or wages.
"These people are mad at me. They say I am the scammer. When I explain what has happened then they calm down but that takes time."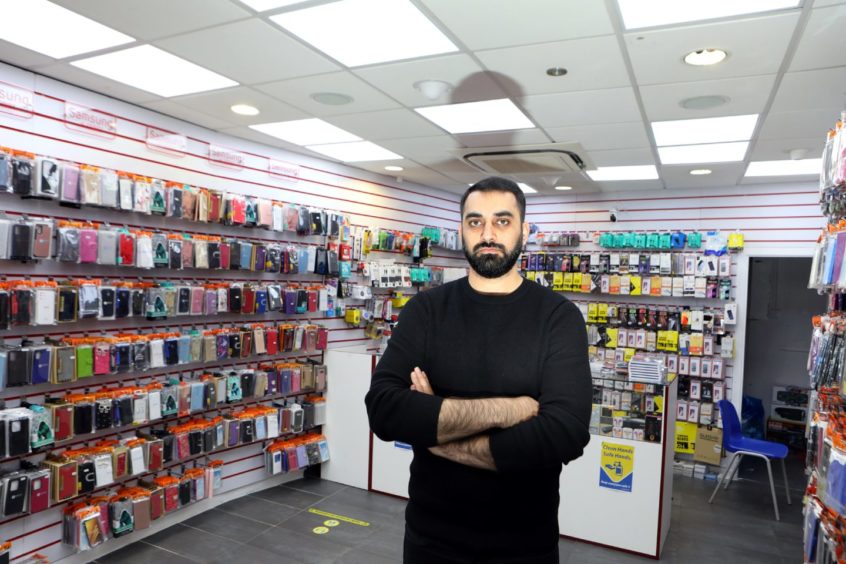 Mr Hussain said he only uses social media to encourage customers to visit his Dundee shop. He posted a warning about the fake page on his genuine page in September.
"One woman phoned me crying. I got a call from a girl who had paid £2,200 via bank transfer for one MacBook pro and phone iPhone 11. He [the con-artist] told her she was getting a deal and she was convinced.
"I said who on this earth pays for a phone with a bank transfer? But his approach seems to work because he is so professional."
Two people have recently called him looking for unpaid wages after the con-artist began hiring people under Mr Hussain's business name.
"He is using innocent people to misguide other people," he said.
Mr Hussain has reported the identity theft to police but has received only advice on how to protect himself against further attempts at cyber fraud.
"I have family here and children. It feels like whoever is doing this is trying to demolish me and my business," he added.
The Courier has tried to contact the social media account behind the fake page, but there has been no reply to messages or to calls to the mobile phone number included on the adverts looking for people to work for the company.
A Police Scotland spokesman said: "We can confirm that a report was received on Monday, 12 October relating to a fraudulent social media page involving a business in Dundee.
"Advice about protecting small businesses from cyber-crime has been offered and enquiries are ongoing to establish the full circumstances."
'I asked him why so cheap': Scam victims speak out
Cinta Subirats, who is originally from Spain and lives in Liverpool, said she had paid for a MacBook Pro.
"He [The con-artist] told me to speak on WhatsApp because that is better. I asked him why so cheap and he said it was an offer and sent me a link to an official webpage.
"Then I thought he was a normal seller so I paid by bank transfer. I investigated and phoned the shop. Hammad told me it is a fake person trying to scam people.
"He [the con-artist ] sent me details from the real shop, but they were from a fake person. It made me feel terrible."
Becky Escreet, an education product manager from Rotherham, was also hit by the scam, losing hundreds of pounds in a fake transaction.
She said: "They made out I could come and collect from the shop, so that made me more confident that it was a real deal. But clearly I live nowhere near Dundee."
She said the con artists had created a fake shop that only existed in a social media profile.
"Once I had paid the money they stopped replying to messages. Then I did a bit of googling and came across the real shop and got in contact," she said.
"I know I should not have paid by bank transfer, but it was a very sophisticated scam."