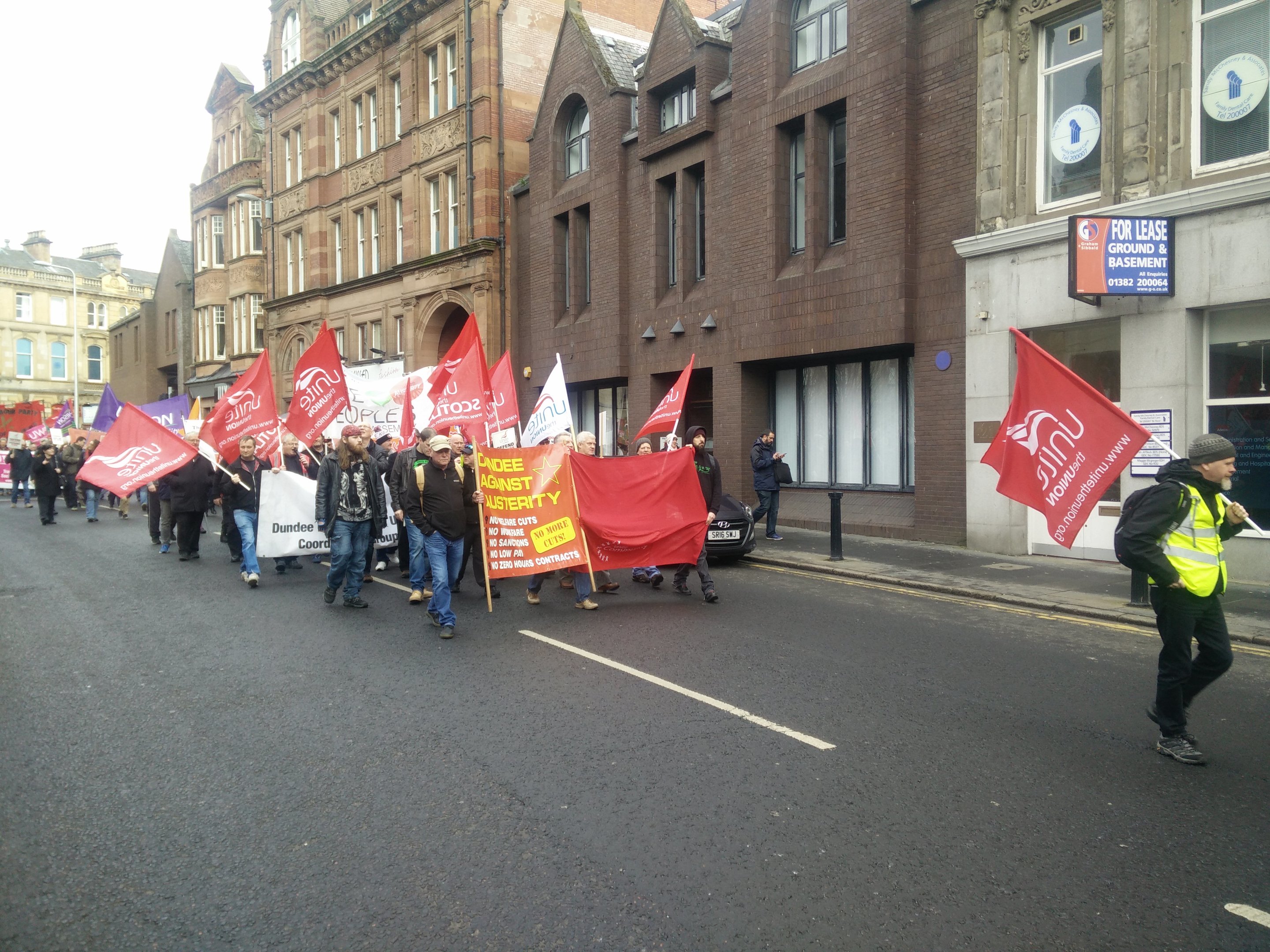 Around 100 protesters took part in a march against council cuts in Dundee on Saturday afternoon.
Chants of "they say cut backs, we say fight back" were led Stuart Fairweather, Dundee branch chairman of Unite, as the group looped around Albert Square while city shoppers looked on.
The protest was organised to voice public disapproval over the planned cuts to local government, health, education, and welfare in Dundee City Council's budget.
Banners on show included those from Unison, the Scottish Socialist Party (SSP) and Unite.
In a speech after the march, Jim McFarlane, Unison branch secretary for Dundee, said that politicians and councillors needed to provide an alternative to austerity.
"Enough is enough. The fightback starts here," he said.
"Dundee experiences some of the highest number of benefits sanctions in Scotland and has one of the highest levels of child poverty of any area.
"If politicians and councillors want our votes they have to provide a real alternative."
Some of the other speakers included the student president of D&A College, Shazz Muhammad, and Chris Boyle, Unison Angus branch secretary.
One of those taking part in the march, Dougie Orchardson, who works for Unite, said that cuts always hit the poorest in society.
He said: "There must be a better way to do it.
"Dundee City Council raising council tax by 2.5% will not solve anything and it always seems to be the poorest in society that are affected by cutbacks to public services."
Another protestor, Rory Malone, a housing officer with Dundee City Council, said: "I am angry about the cuts in Dundee. How are we going to provide services in our communities?
"It will be the most vulnerable people such as the elderly that will bear the brunt."