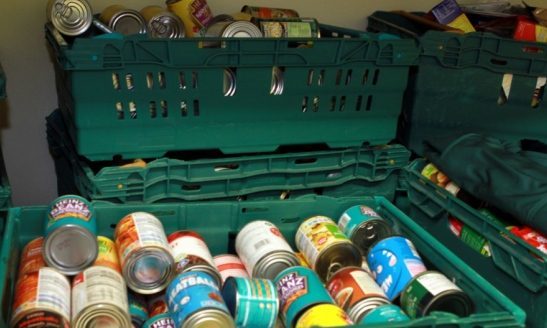 There were almost 10,000 referrals for emergency food packages in Dundee last year, as the number of people requiring foodbanks in Scotland rose for the sixth year in a row.
Figures released by the Trussell Trust show a rise in foodbank use across Dundee, Perth, Angus and Fife.
In Angus, the number of supplies handed out between April 2016-17 increased by 34% – three times the national average and the second largest percentage increase in Scotland.
Foodbank use in Perth and Kinross rose sharply also, with 864 more residents referred for emergency food supplies in the same time period – a rise of 25%.
Fife bucked the unwanted trend by being the only area in Courier Country not to have an increase greater than the national average, but foodbanks in the area still saw a 4% increase in the number of people using them.
More than a third of Dundee emergency food packages were referred to children.
More than 145,000 emergency food packages were handed out across Scotland between April 2016 – April 2017 – enough to feed the population of Dundee.
Emergency food supply referrals have dramatically increased every year in Scotland since 2011.
The Trussell Trust has said for the first time low income is the single biggest driver as to why more people are needing emergency food packages – with increasing inflation and benefit delays as a result of the roll-out of Universal Credit identified as the main contributing factors.
The Department for Work and Pensions, the governmental department responsible for the country's benefit system, said it was "misleading" to blame the rise in foodbank use on Universal Credit alone.
Ewan Gurr, Trussell Trust network manager, said: "The discovery that foodbanks in Scotland gave out enough emergency food to feed the entire population of Dundee for three days is deeply worrying and the reasons underpinning this are just as concerning.
"Despite nine Scottish local authorities showing a decrease in foodbank use six months ago, it is clear that a cold Christmas, the roll-out of Universal Credit and the ever-increasing pressure on the pockets of low income individuals and families is yielding bitter outcomes.
"Worrying stories emanating from foodbanks highlight the reality that a record 12-month inflation rate of 2.3% and benefit delays attributed to the roll-out of Universal Credit are leaving men, women and children up and down the country sitting at the dinner table with no food in front of them.
"With both council elections and a general election on the horizon, it is absolutely critical for confirmed as well as prospective candidates to put tackling hunger and food poverty front and centre of the policy agenda.
"It is crucial to amplify the voices of people in poverty in the process, and ensure the delivery of a clear and coherent strategy on tackling hunger and food poverty that can be implemented both at local and national level."
SNP MP for Dundee East, Stewart Hosie, said: "The Tories should be ashamed of these new figures. The fact is almost 10,000 Dundonians needed foodbanks last year and that is a damning indictment of the absolute failure of the UK government's austerity policies.
"The agenda of more cuts and more austerity continues to be damaging to families and communities across Scotland – and  while the Trussell Trust and others are doing vital work providing support, such widespread use of foodbanks is still shocking."
A DWP spokesperson said: "The reasons for foodbank use are complex, so it's misleading to link them to any one issue.
"Employment is the best route out of poverty, and there are now near record numbers of people in work in Scotland. Under Universal Credit people are moving into work faster and staying in work longer than under the old system.
"Universal Credit is designed to mirror the world of work and give people control over their own finances. The majority of Universal Credit claimants are confident in managing their money and we work closely with local authorities to support those who need extra help. Budgeting support, benefit advances, and direct rent payments to landlords are available to those who need them."