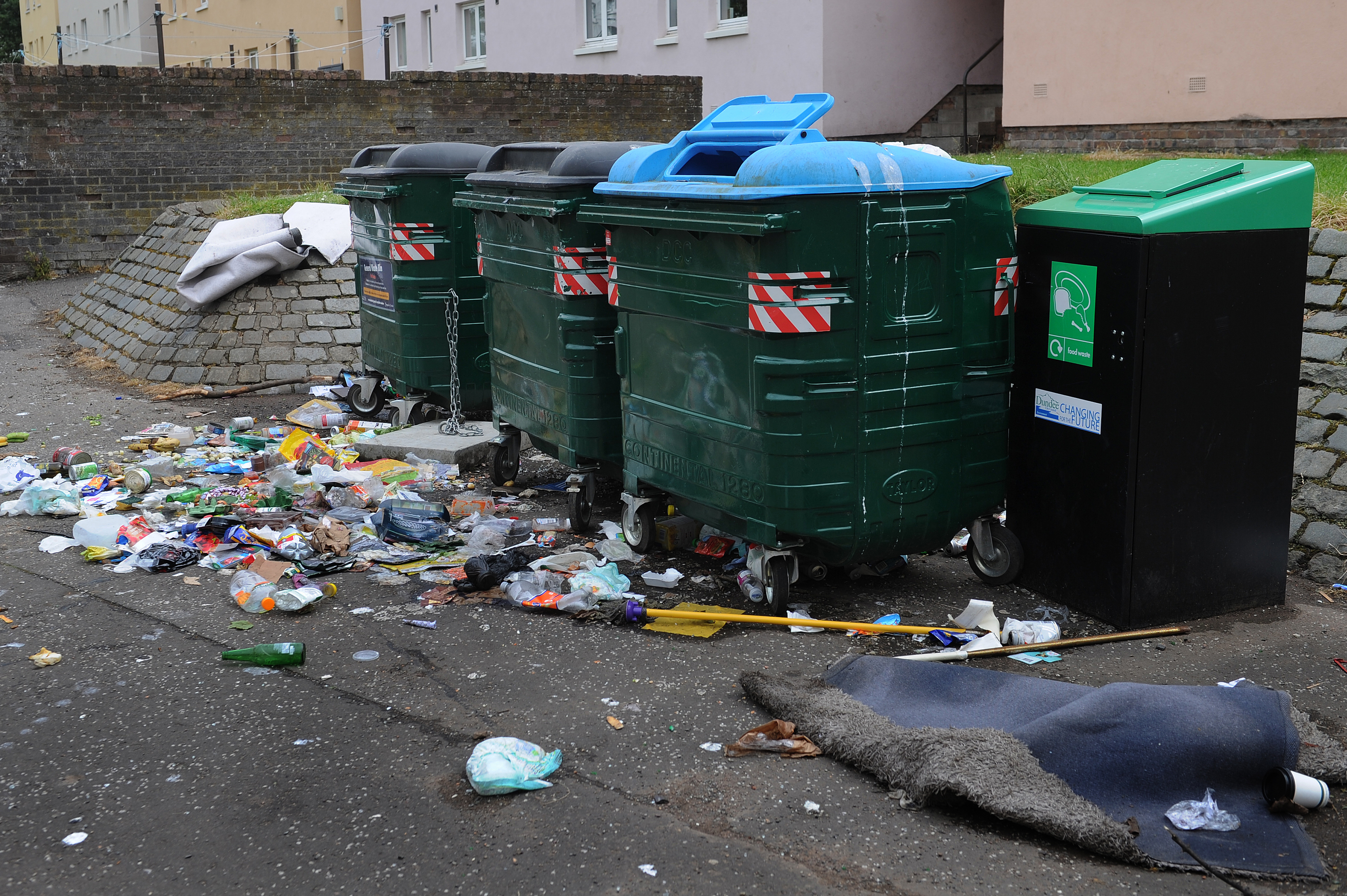 The chief executive of Dundee City Council took the unprecedented step of apologising for the bins crisis that left rubbish uncollected across swathes of the city.
David Martin and the executive director of neighbourhood services, Elaine Zwirlein, both issued full apologies to city residents and councillors for the disastrous roll-out of the new recycling scheme in some parts of Dundee.
A report before the neighbourhood resources committee revealed thousands of properties had not had rubbish collected during the first week of the roll-out because suppliers had failed to provide hundreds of bins.
The committee also heard how some refuse collection staff were abused in the street because of the issues, while councillors were reportedly chased by residents wanting to complain about the bins.
Mr Martin said: "The council has high expectations of our services and I think when things go wrong it is important to say so, acknowledge it and try to put it right.
"We got things quite wrong and it is important to apologise for it.
"We'd like to thank residents for telling us where things were going wrong and where they were less wrong."
He added: "The measure of a good and confident public organisation is to put its hands up. We are trying to explain to members where things went wrong and are trying to learn from it."
Mr Martin also said committee convener Kevin Cordell had taken unfair "political flak" for the affair, when the failures had been "operational".
Kevin Cordell admitted the phase four roll-out of the recycling scheme, which asks residents to sort rubbish into different types of recycling bins had "not been to the standard we expect or that council tax payers deserve".
He added: "Everyone in the council shares the frustration of people in our communities. But we recognise the importance of recycling and hope recent events will not put people off."
He said the extension of the recycling scheme to other areas would not go
forward until officers are satisfied all problems have been fixed.
Labour councillor Richard McCready said the administration had ignored warnings from his party last year that the proposed roll-out had been too ambitious.
There was praise for how council staff had dealt with the thousands of
complaints they had received and Mr Cordell said there are signs the new
system is bedding in and improving
recycling rates.
But Labour councillor Michael Marra said: "A 4% upturn for pockets of chaos appears a meagre return."
Conservative Phillip Scott said the council had appeared "amateurish".
---
Comment: 'Sorry' not so hard after all
It turns out apologies are quite like buses: you wait ages for one to come along and then two do at once.
Council boss David Martin and neighbourhood resources head honcho Elaine Zwirlein both apologised for the problems residents in the city have experienced as a result of the latest phase of the city's recycling scheme.
Unlike elected members, council officers are rarely directly in the firing line so last night's proceedings must have been uncomfortable for both.
Given how badly wrong things have gone since the phase four roll-out began at the end of June, they will be hoping it marks if not the end of the problems altogether, the turning of a corner.
Committee convener Kevin Cordell will certainly hope so.
He looked a nervous man before proceedings began but handled what could have been a fractious debate well and even found himself absolved of any blame by the council's chief executive.
That didn't convince opposition members, but he'll be hoping it will be enough to convince residents things are getting back on track.