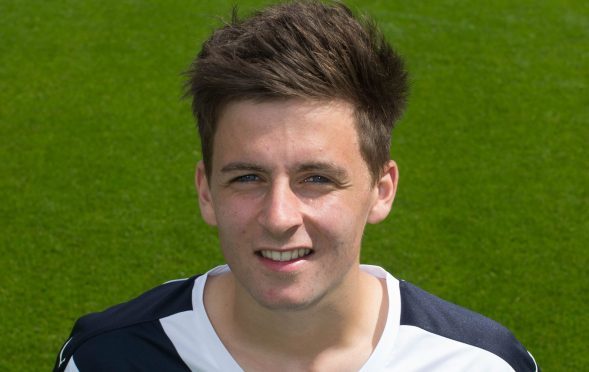 The mother of a former Dundee FC youth player is keeping a vigil by his hospital bed after he suffered serious head injuries.
John Black, 20, from Blairgowrie, was found bleeding from the head in the Hawkhill area of Dundee in the early hours of Sunday morning following an alleged assault.
He was taken to Ninewells Hospital where he remains in a critical condition on a life support machine.
The former development squad midfielder was released from the club last year but a club spokesman said: "We have been made aware of the situation and our thoughts at this time are with John and his family.
"We are hoping he makes a speedy recovery.
"John was a popular member of the development squad during his time here."
A post on Facebook page Dundee FC News said: "I'm sure all the Dundee fans send their thoughts and prayers to former Dundee youngster John Black, who is on a life support machine.
"Fans across the world are thinking of you buddy."
John's mother June replied: "Thank you so much for kind thoughts."
She said she preferred not to make any further comment when contacted on Tuesday morning.
It is the second tragedy to hit the Black family.
John's older brother Aaron took his own life in 2011 when John was just 14-years-old, having struggled with civilian life upon his return from a tour of duty with The Black Watch in Afghanistan.
Haunted by memories of what he witnessed on the front line, Aaron, who had enlisted when he was 16, surrounded himself with  photographs, his army medals and a crucifix before sending a last "goodbye" text message to his mother just a few days before Christmas.
He was just 22.
Man appears in court
Police Scotland confirmed on Tuesday a man has been charged in connection with Sunday's incident on Old Hawkhill Road.
Robert Chambers, 23, of Dundee, appeared in private on petition at Dundee Sheriff Court.
He faced a single charge of assault to severe injury and danger of life.
He made no plea and the case was continued for further examination.
Chambers was released on bail.
A police statement said: "Police Scotland can confirm that a 23 year old man has been charged in connection with a serious assault which happened in the early hours of Sunday October 8 at Old Hawkhill, Dundee."