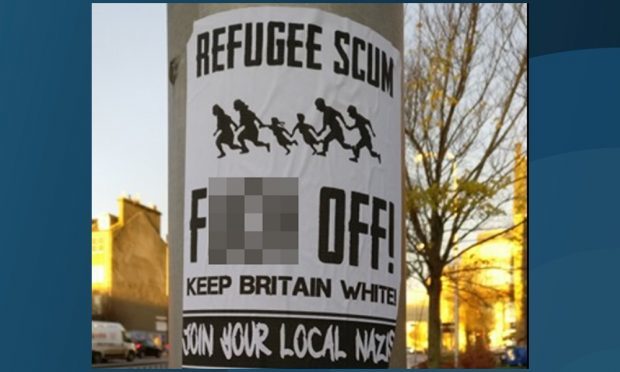 The public stepped in to rip down posters advertising a "local" Nazi branch after they appeared in Dundee on Tuesday morning.
The alarming and inflammatory adverts linked to a website owned by a group calling themselves the System Resistance Network.
It is not known if the group are proscribed by the Home Office, but they do describe themselves openly as fascists and supportive of Adolf Hitler.
The posters were stuck to lampposts on Marketgait and the protective wall surrounding the under-construction railway station on the city's Waterfront, just metres across from the V&A building.
By 10am both had been torn down, seemingly by outraged passers-by.
The self-professed Nazi website links to the groups' Twitter page, which has a number of racist "memes" which have proven popular with so-called "alt-right" fascist groups across the world.
Police have confirmed the contents of the posters, which are derogatory against refugees and calls for "white supremacy" in the UK, are illegal and would fall under hate crime legislation.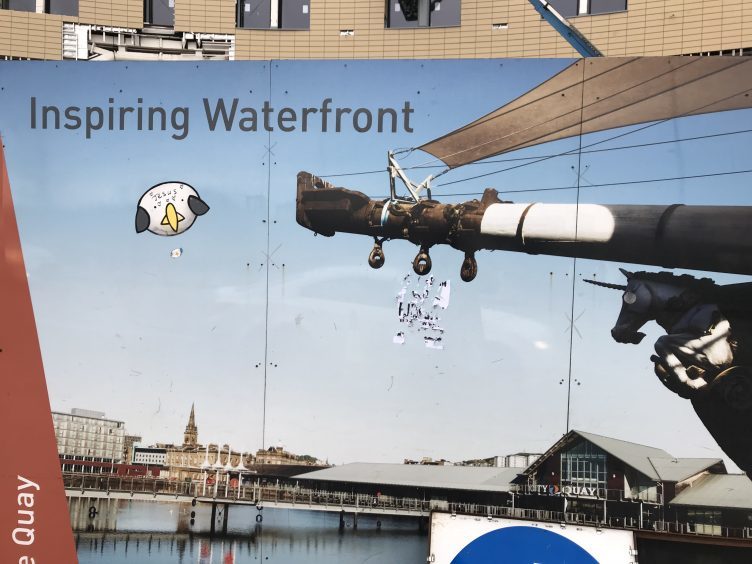 Dundee City Council recently announced a crackdown on illegal posters and flyers following complaints from members of the public.
At the time, the complaints centred on the dangers posed to public safety and traffic if they were to come loose.
Hate group National Action became the first neo-Nazi organisation to be banned by the Home Office in December 2016, making becoming or being a member of the group a criminal offence.
Their Scottish equivalents, Scottish Dawn, have also now been banned by the government.
Both groups have appeared at demonstrations alongside far-right thugs the English and Scottish Defence Leagues, who recently held a demonstration in Perth.
Their protest was outnumbered by a large group of anti-fascist and anti-racist demonstrators in September of this year.
The public can report any suspected hate crimes at www.scotland.police.uk/secureforms/hate-crime.