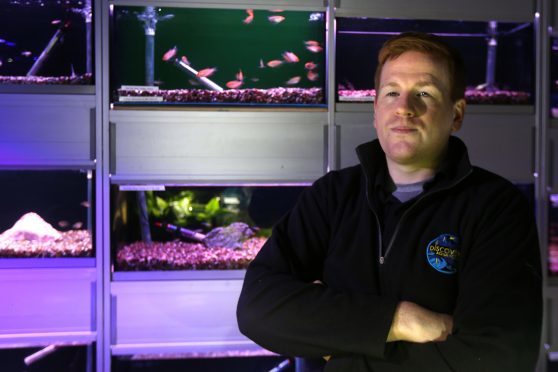 A Dundee aquarium shop owner has told how cruel louts poisoned a tankful of fish worth more than £2000.
Kris Rennie, who runs Discovery Aquatics at Manhattan Works, described how his business has suffered a number of setbacks including the poisoning.
He also told of crime in the area putting off customers and nearby waterworks reportedly leading to a "an almost 50% drop in trade" over the past week.
Mr Rennie spoke out after the Courier revealed Dundee has one of the poorest business survival rates in Scotland, with more than 60% shutting up shop before their fifth anniversary.
The business owner said he would battle on despite the difficulties.
He said: "I was shocked but not surprised to read dreadful statistics on survival rates.
"We have grown and had great success over the last seven years, but it always seems an uphill battle. A few months ago someone came into our shop, while we were open, and dropped some kind of  substance inside a tank of fish.
"I noticed the fish just weren't right. They were swimming funny and within half an hour were close to death. Out of the six, which had a combined retail value of £2500, only two survived.
"But it's not just about the money – it is such a cruel and mindless act. I've no idea why someone would do that, perhaps it's some sort of vendetta."
The fish included sharks, Sohal Tang, cross-hatch triggers and puffer fish.
Mr Rennie said he was unable to prove who was responsible due to CCTV not pointing at the tank in question.
He  also claims he has lost out on around £8000 worth of trade over the past week due to waterworks "making access difficult" for customers.
The waterworks, carried out by Caledonia Water Alliance on behalf of Scottish Water,  began at the end of November and have now been completed.
Mr Rennie said: "I can't recoup the losses but I'm glad that the work has been finished ahead of schedule – originally they had planned to be here until December 17."
A Scottish Water spokesman said: "The work being carried out is part of Scottish Water's £5m upgrade of the water network across Dundee.
"This investment is essential to ensure we can provide our customers in the area with a high quality water supply far into the future.
"In this case, CWA contacted residents and business owners on two occasions by letter to let them know about the planned work before it started.
"Local access for vehicles has been maintained throughout the work and Business Open As Usual signs are also in place in the area."