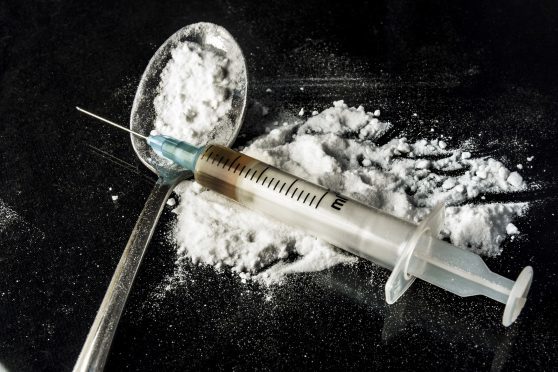 Health bosses have been urged to act amid fears 2018 could be Dundee's worst ever year for drug-related deaths.
Dundee City Council are to launch a major drugs commission next month to explore new ways of tackling the issue after alarming official figures revealed the city's problems with illegal substances are getting worse.
Dundee experienced a suspected 12 drug-related deaths last month alone, compared to 38 for the whole of 2016, raising fears a new record could be established by the end of the year.
Sharon Brand, from Recovery Dundee — a leading drug and alcohol support group, said it should be "no surprise" to those running the city's public services.
"The way we look at addiction needs to change because there are so many people who are falling through the cracks," she said.
"Dundee has the services and the ability to help people but it's about working together and appreciating how serious this issue is.
"It's got to the stage where this is what Dundee is known for and it's incredibly emotional for me because I know these people and I know they are in despair.
"It should be no surprise to those working in health, social services or anyone else because it's been getting worse for years and it's been allowed to happen."
Councillor Ken Lynn, the city's lead for health and social care, confirmed the local authority is to hold a meeting on March 24.
"Drug deaths are a huge problem for Dundee," he said.
"We're going to be involving people from across Scotland and further afield to try and find new ways forward in tackling this.
"We need to to look at ways of upping our game because the number of deaths has skyrocketed and I have no doubt this will be the worst year for it ever.
"I'd like to see urgent action on this — people need to know it is a priority for the city."
Council leader John Alexander said the time had come to "stop talking about change and start delivering it".
"That is exactly the reason that we are creating a Drug Commission to take a forensic look at the issues and come up with tangible actions," he said.
Consultant in Public Health, Dr Emma Fletcher, said: "Every drug death is a tragedy and every effort is being made to prevent such deaths.
"Over a number of years in Scotland drug deaths have been increasing and this has also been the case in Dundee.
"We are aware that one of the reasons for the increase in drug deaths is due to an older population of drug users who are experiencing multiple health conditions.
"In Tayside, we do everything possible to closely monitor emerging risks and keep people safe through the provision of treatment and support."