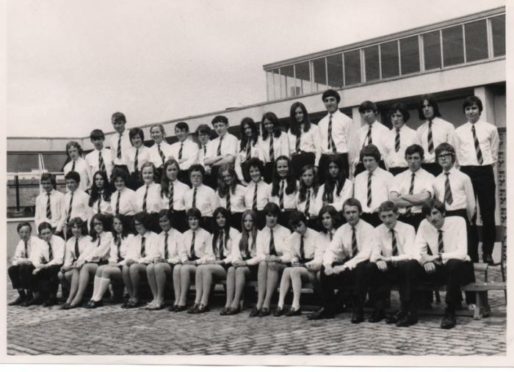 A woman who left Dundee more than four decades ago is trying to drum up interest in a unique school reunion.
Elisabeth Kerr was a pupil at Lawside Academy when its two campuses were combined to one building in 1965.
She is now looking for anyone that was part of the transfer for a reunion. The 64-year old is urging pupils or staff from 1961-65 to get in touch.
Elisabeth left Dundee in 1976, and after a brief spell in Southampton, moved to Bristol and has been living there since.
Details of the reunion are still to be finalised until there is a firmer idea of numbers, but Elisabeth is confident it will be a "joyous occasion".
She got the idea when a Facebook page, Dundee School Photographs, got her reminiscing about her hometown — which she admits she doesn't get up to very often now.
Because of data protection laws, she cannot get access to school rolls and is appealing for anyone that was at the school in any capacity at the time to get in touch.
She said: "There has already been interest from as far afield as San Francisco and Canada — some of the lives the people I've already been in contact with have been really interesting and varied.
"I am trying to identify Lawside pupils who started in my own year, 1965, and those from the previous four years — anyone who made the move from the split sites to the new school.
"Our aim would also be to include any teaching staff who are still available and who might be interested in this gathering.
"It's been really good to be in contact with the people that I've already caught up with, including my former best friend who I haven't spoken to in decades.
"I really enjoyed the school and it was a brilliant time."
She is hoping to get at least 50 people willing to attend to make it worthwhile for those travelling for the reunion, but would ideally like as many as 100.
"Given the numbers involved, getting that number would be outstanding," she added.
Elisabeth has asked anyone who went to the school at the time to write to her at 130 Westons Brake, Badminton Park, Downend, South Glos, BS16 7BP.
Lawside Academy closed its doors for good in 2008, just over a century after it opened.