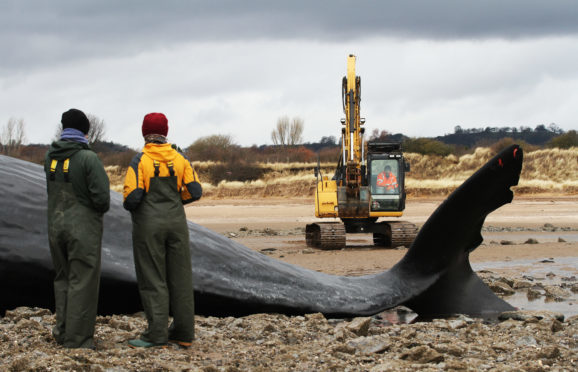 Fears public health is at risk from 'toxic' waste washed up from a buried sperm whale at Monifieth beach have been dismissed by a leading vet.
Dr Andrew Brownlow, head of the Scottish Marine Animal Stranding Scheme, responded to criticism from a local resident who found part of the whale's intestines and chunks of whale meat while walking his dog on the beach on Wednesday morning.
Ian Crighton of Monifieth was told by marine biologists at the scene at the weekend to keep his dog away from the animal parts as they were "toxic".
He said: "I cannot understand why, when a lot of money was spent burying the whale, all the parts were not either buried or removed.
"It doesn't make any sense to have all the expense of diggers to leave intestines and bits of whale meat cut out lying around to create a potential hazard.
"At the moment they are all adjacent to the firing range so there is not that heavy pedestrian traffic.
"But it could get swept out onto the main beach and as far as Broughty Ferry."
However, Dr Brownlow, who carried out the autopsy on the mammal before it was buried, has moved to allay fears parts washed up are harmful.
After viewing photographs taken by Mr Crighton he said: "I agree they do look like tissue from the sperm whale, and whilst there is no specific hazard involved with this animal any more so than a livestock carcass, and would rapidly decompose if left, it is advised that Angus Council are alerted so they can arrange for it to be removed.
"There are no health problems other than it is unpleasant. Stories these animals have lots of horrible diseases and are full of toxins are not the case – it was in remarkably good health.
"We have to be very careful we don't leave parts around, it's not pleasant, not aesthetically nice. It was oversight and we will try to remedy it.
"All of the parts were supposed to be buried. The problem was they were fighting against the tide. I personally checked the area before everything was buried and it looked a very clean site."
A spokesperson from the Scottish Environment Protection Agency (SEPA), said: "SEPA was contacted by the local authority regarding the burial of the whale's remains.
"Given the location of the whale and the area's various environmental designations, such as a Special Area of Conservation (SAC), SEPA advised the local authority a number of partner organisations should be consulted, including Scottish Natural Heritage and the Ministry of Defence, prior to a final decision on disposal.
"While the whale does not pose any immediate risk to the environment, SEPA officers will continue to monitor the situation and work with the local authority."
A spokesman for Angus Council said: "Initial inspection of the area following the burial of the whale carcass did not identify any further remains on the beach. However, we will undertake further checks and if necessary take action in consultation with partner agencies."