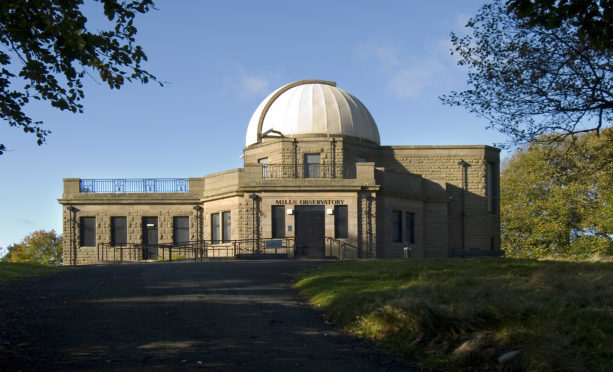 The telescope at Dundee's Mills Observatory is out of action because a fault is stopping the dome from opening.
Leisure and Culture Dundee, which runs the popular observatory in Balgay Park, say repairs are under way and hope to have them completed by October.
Visitors to the observatory have still been able to use smaller telescopes to look at the night sky but the main telescope has been out of action for months due to a fault with the dome's shutter mechanism.
West End Liberal Democrat councillor Fraser Macpherson said: "I understand that, just after the new year, the shutter mechanism on the telescope dome failed and from then on it has not been possible to use the big telescopes in the dome because it cannot be opened to the sky.
"The Leisure and Culture Dundee staff at the Mills Observatory have instead been using smaller, portable telescopes on the balcony to give visitors a look at the sky, but of course it falls far short of what visitors would normally expect.
"I was therefore anxious that efforts would be made to get the shutter working again before next winter when the observatory is at its most popular due to night sky conditions."
Mr Macpherson wrote to Leisure and Culture Dundee and was told that "while the fix is not straightforward" it is still hoped repairs will be completed by October 1 and the start of the winter season.
Mr Macpherson added: "I am pleased that steps are being proactively taken to ensure that repairs will be undertaken to the Mills Observatory telescope dome.
As the country's first purpose-built public observatory, it has a unique role and it is important that the dome is fully operational again as soon as possible."
The Mills Observatory, located on Balgay Hill, opened its doors in 1935.
The funds for the facility were gifted by linen and twine manufacturer John Mills, who was also a keen amateur astronomer.
He left the money for the project in his will, which was handed to the Town Council by the Mills Trustees after his death in 1889.
Tn 2013 the main telescope — a 16-inch Dobsonian reflector was installed.
The Observatory's seven metre dome is constructed out of paper mache, with steel supports.