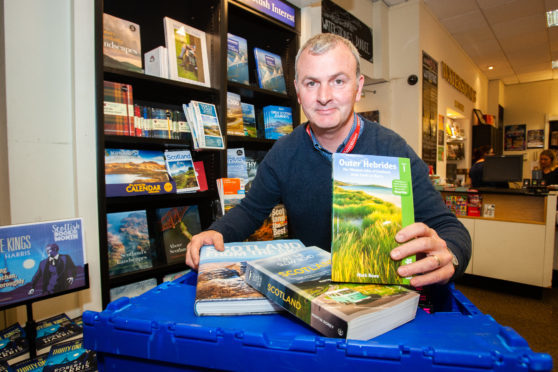 A Dundee book shop manager is taking to the road with a car-load of books for a remote Scottish community.
Waterstones manager Robin Crawford is heading to Benbecula in the Outer Hebrides to set up a pop-up shop and donate books to the only secondary school on the island, Sgoil Lionacleit.
The trek is in partnership with Scottish Book Trust as part of the First Minister's Reading Challenge, a Scottish Government campaign that hopes to encourage children to read more.
Mr Crawford will be taking more than 600 books to the island and will donate 50 to the school's library.
Mr Crawford said: "We want to encourage more children to read as there are many benefits to it and it's a wonderful hobby.
"Book shops are brilliant and it's a way to reach out to someone that doesn't have a book shop available to them."
All loaded up for our #BenbeculaBooks pop-up shop #SgiolLionacleit @Waterstones @scottishbktrust #FirstMinistersReadingChallenge pic.twitter.com/Og1nnB157w

— Waterstones Dundee (@WstonesDundee) June 5, 2018
Mr Crawford's passion for the islands has inspired him to write Into The Peatlands, a book about exploring the rugged terrain of the Outer Hebrides. The book will be published in September.
His wife is from the Isle of Lewis and his love of the Western Isles came from trips there with her, so he is no stranger to the drive across the country.
Originally from Glasgow, he studied sculpture at the Duncan and Jordanstone College of Art and Design. After working in various Waterstones across Scotland, a flooded Tay brought him back to Dundee seven years ago to help out the shop and he's stayed ever since.
The books loaded in his car are a "broad mix" of classic novels, childrens' stories and general interest. Mr Crawford noted they also chose books that secondary school pupils would study as part of their curriculum.
Marc Lambert, CEO of Scottish Book Trust, said: "As one of the pilot secondary schools for the First Minister's Reading Challenge, we have been working with Sgoil Lionacleit to develop their reading culture and build partnerships that increase access to books.
"The Warerstones pop-up shop is one of a number of initiatives undertaken by the school to give reading a high profile. It will be a great opportunity for its pupils and wider community to explore a range of books, and to celebrate all they have done to support the reading challenge this year."