Dundee could welcome more "big bands" in the future following the success of three sold-out Snow Patrol shows in the city.
The rock group returned to the place where it all began on Sunday to play a series of back-to-back intimate gigs at Church on Ward Road.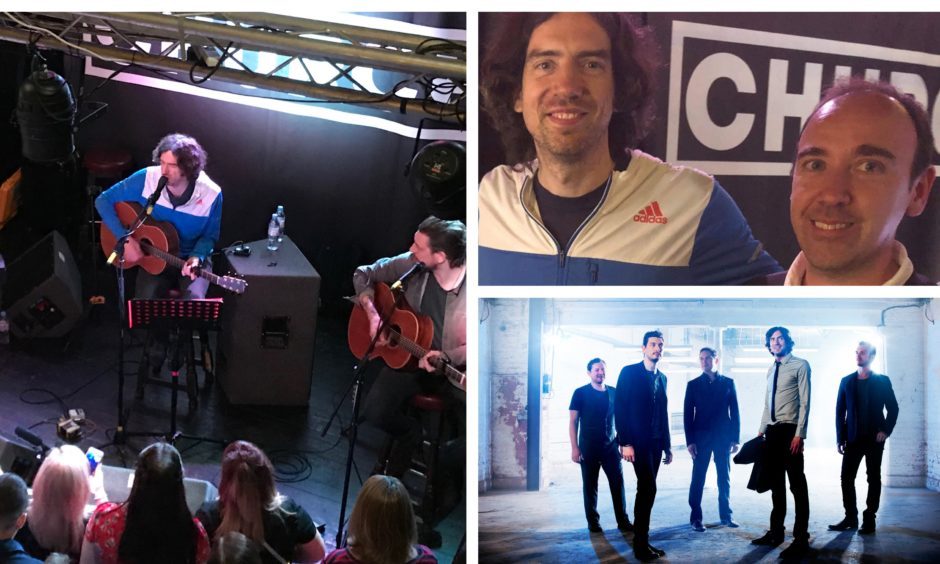 Frontman Gary Lightbody was joined for the shows by band members Johnny McDaid and Nathan Connolly, with the singer-songwriter hailing the day as "special".
The venue was packed out by 400 fans at each performance, with some in the crowd moved to tears by the music.
The shows were organised by the city's Assai Records, with tickets selling out within hours of going on sale.
Owner of the store Keith Ingram said he will be "working hard" to bring more performances from "big" names to Dundee in the future following the success of the Snow Patrol shows.
It was the band's first time playing the venue in more than 20 years, having performed to just 25 people on the same stage in 1996.
Snow Patrol began life in the City of Discovery when Lightbody linked up with Michael Morrison and Mark McClelland while attending Dundee University in the early-1990s.
During Lightbody's time in Dundee, he also met the band's future keyboardist Tom Simpson, who is from Monifieth. One of the Church performances was dedicated to him.
Mr Ingram said: "When the new (Snow Patrol) album was announced back in March we basically started working on getting something organised. We spoke to Tom Simpson, he gave us some pointers as to who to contact. It was a long process of getting it organised.
"It was great. At a venue of that size, just to see a band of that calibre was incredible. It was amazing. It was all stripped back.
"I think they could have probably sold-out 10 shows. The venue was brilliant actually. You really felt you were close to the band. It was a coup."
"The sets started with the same songs and they ended up mixing it up through the three different performances.
"It was sold-out. The first two sold-out on the day and then we managed to convince them to stay in Dundee a bit longer and put on a third show. That sold-out in a couple of hours.
"It has certainly opened a few doors for us now, so hopefully, fingers crossed. We have done it in the past, we have done it with The View. Being a local band makes it easier.
"We'll be working hard to try and get some big bands up to Dundee that don't often come here."
He added: "Snow Patrol have got strong roots to Dundee. Snow patrol was formed in Dundee, that was definitely on our side when working towards this.
"It was a big thing for them, they are in-between doing festivals and other things."
Posting to his Twitter account following the show, Lightbody said: "Dundee you bunch of legends! Thank you for a lovely day. All three shows were great fun.
"So great to be back in Dundee. So many memories. The last time we played that venue (in 1996) we played to 25 people so to pack it out three times in an afternoon was something very special."
The shows came just days after Lightbody was revealed as one of ten prominent figures being awarded an honourary degree by his alma mater, Dundee University, later this month.
Ack Dundee you bunch of legends! Thank you for a lovely day. All 3 shows were great fun. So great to be back in Dundee. So many memories. The last time we played that venue (in 1996) we played to 25 people so to pack it out three times in an afternoon was something very special.

— gary lightbody (@garysnowpatrol) June 10, 2018
A massive thank you for @Assai_UK record store for putting on the gigs today and for the @church_dundee for hosting them. Thanks to all the staff in both places.

— gary lightbody (@garysnowpatrol) June 10, 2018
@snowpatrol @garysnowpatrol can come back to #dundee for an acoustic set anytime, that was amazing!! ??? pic.twitter.com/wlZmV1fZRi

— Ian MacQueen (@ianmacq) June 10, 2018
What an amazing afternoon listening to @snowpatrol in #Dundee
The emotion during the acoustic version of 'What if this is all the love you get' made me cry ?
Big thanks to @garysnowpatrol for the great selfie! ?? pic.twitter.com/E5pKaXdheN

— Cee Ell Gee (@ClairetyLouise) June 10, 2018
#Snowpatrol in #Dundee sinply fabulous! First concert for Tim & Nik… what a way to start! pic.twitter.com/PaRSMPJjTh

— David Edwards (@dhe38) June 10, 2018
Amazing acoustic gig by @snowpatrol at Church Dundee. Loving the new album #Wildness Thanks @Assai_UK

— Amy Cameron (@axcameron40) June 10, 2018
Big thanks to @snowpatrol for 3 fantastic show in Dundee. Lots of happy people seeing them back in Dundee after so long. @garysnowpatrol @johnnymcdaid pic.twitter.com/jmUebRMp7t

— Keith@Assai (@AssaiKeith) June 10, 2018