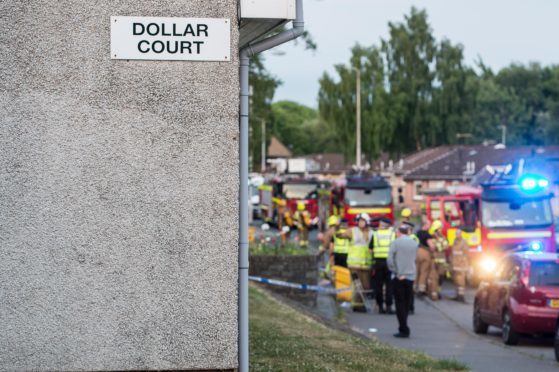 A blaze at a Fife sheltered housing complex may have started in an outside bin.
There have been no indications that the blaze at Dollar Court in Dunfermline, which damaged five homes on Sunday, was started deliberately.
However, local police were said to be keeping an open mind as a joint investigation with the Scottish Fire and Rescue Service continues.
Detective Constable Kris Robertson of Dunfermline CID, said: "We are keeping an open mind as to the cause of the blaze and are working with the Scottish Fire and Rescue Service to establish this.
"We would welcome any information that may assist us with our joint inquiry.
Firefighters were back at Dollar Court on Monday to investigate how the blaze had started on Sunday night.
None of the elderly residents at the Fife Council run sheltered housing were injured.
As council officers assessed the extent of the damage, residents unable to return home were offered temporary accommodation elsewhere.
Paul Short, council service manager for housing, health and social care and older persons, said: "Fortunately no one has been hurt in this incident.
"The early indications are that five properties may have suffered fire damage. The tenants of these units were re-housed last night, either with family or in temporary accommodation.
"Today we will be assessing the properties to see if they are habitable and speaking to our tenants to make sure they are okay and to discuss housing options with them as necessary."
Councillor Helen Law, the Labour representative for Dunfermline North, said: "It was very fortunate that nobody was hurt.
"Now it's just a case of getting in and seeing how much damage was done.
"For folk who have lost their homes it would have been traumatic, and it would have been traumatic for the folk who watched it all unfold.
"The council has been supporting people and making sure they have the basics that they need."
Dunfermline and West Fife MSP Shirley-Anne Somerville said: "I am very grateful to the emergency services for their rapid response to this incident. And my thoughts are with those affected by the fire, for whom this will be an incredibly difficult time.
"After visiting Dollar Court myself, the scale of the damage is clear.  It's now important that suitable alternative accommodation will be made available to affected residents as quickly as possible whilst the site is made safe again."