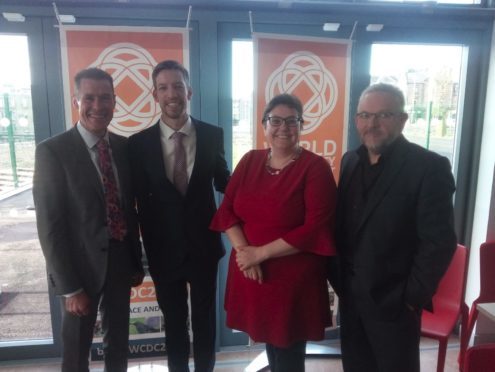 Dundee is to host a world celebration of community next year, bringing delegates from across the globe to the City of Discovery.
More than 350 envoys  from more than 30 countries are expected in the city for the World Community Development Conference.
Dundee City Council John Alexander was among a number of dignitaries at the launch at the recently opened Hilltown Community Centre.
He said: "It is an incredible honour for our city that the eyes of communities round the world will be on Dundee in June 2019 as we host this prestigious global community development conference for the first time.
"We're getting used to international attention here in Dundee because of our bold ambition that is being realised in the regeneration of the city and this event will certainly cement our place on the map for culture, social justice, participatory democracy and human rights.
"Immediately after the conference there will be a two-day practice exchange where international guests will have the chance to get to know the community work of the people of Dundee and the surrounding areas better."
The event will be based on the pioneering work of Dundee thinker Sir Patrick Geddes, who was a pioneer of global sustainable development.
Geddes  was a biologist, sociologist, geographer, philanthropist and ground-breaking town planner.
He is known for innovative thinking in the fields of urban planning and sociology and was Professor of Botany at University College Dundee from 1888 to 1919.
Conference contributors already confirmed include Maria Virginia Bras Gomes, chair of the UN Committee for Economic, Social and Cultural Rights and senior social policy adviser in Portugal's Ministry of Solidarity, Employment and Social Security; author, rapper and social commentator Darren "Loki" McGarvey and Professor Margaret Ledwith, Emeritus Professor of Community Development and Social Justice at University of Cumbria.
The conference is being organised by the International Association for Community Development, the University of Dundee, Leisure and Culture Dundee, the Scottish Government and Dundee City Council.
Clare MacGillivray, co-chair of World Community Development Conference 2019 and Board Member of International Association for Community Development, said: "Next year is our 65th anniversary and we are celebrating our global headquarters being in Scotland for 21 years so it is only fitting that we come home next June.
"It's a great honour to bring the best of the world's innovation, creativity and thinking in community development to the best wee city in the world."
The World Community Development Conference will take place between June 24 and 26 next year.