A Dundee woman has been named Scotland's Youth Worker of the Year 2019 for her work empowering vulnerable city residents to turn their lives around.
Eilaine Coffey of the Hot Chocolate Trust (HC), based in the Steeple Church since 2001, has worked with thousands of young people to build relationships and support them in navigating changes towards adulthood and a positive future.
The youth worker has more than a decade of experience working with vulnerable residents in Dundee and took home a top award at the National Youth Work Awards 2019 for her inspirational efforts.
The event celebrates Scotland's 80,000 youth workers, who work with more than 350,000 young people every year.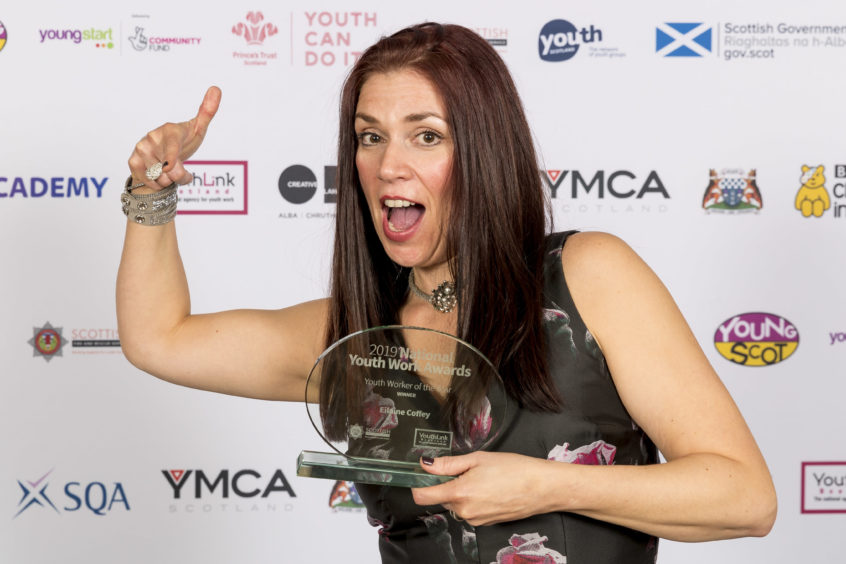 Ms Coffey said: "For me, the biggest honour on receiving this award is that young people took the time to nominate me.
"I can honestly say I was blown away when I found out. I have spent 10 years of my youth work life at Hot Chocolate because it's a place where young people and the team can grow and learn together.
"The project gets alongside young people providing space for them to connect, to explore, to share their life, dreams, hopes, fears and ambitions, and at Hot Chocolate every day is most definitely a new day."
Those paying tribute to Ms Coffey's work include a young mother who suffered domestic abuse at the hands of her previous partner and a 21-year-old who described the support service as like "another set of parents who give us unconditional love no matter what".
Scotland's Inspirational Leader of the Year went to Fergus McMillan, CEO of LGBT Youth Scotland, who recently judged a drag lip sync battle with the minister for older people and equalities Christina McKelvie MSP at Dundee Pride.
He was celebrated for speaking up for LGBTI young people's rights in the media and welcoming new volunteers into the LGBT Youth Scotland fold.
Richard Lochhead, the minister responsible for youth work in Scotland, commended the thousands of workers who "give their time and skills to positively influence our young people".
He said: "We want Scotland to be the best place in the world for children and young people to grow up and the excellent work carried out by the youth work sector is a vital part of this.
"Involvement in youth work activities offers young people the chance to build connections, develop skills and improve their wellbeing.